Royal Navy's First New Carrier Visits New York City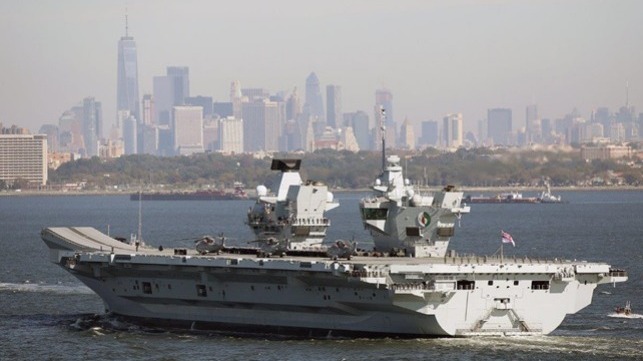 Britain's biggest warship HMS Queen Elizabeth made waves Friday in the Big Apple, beginning a historic week-long visit to New York.
The Elizabeth dropped anchor within sight of the Statue of Liberty and the skyscrapers of Lower Manhattan to begin seven days in New York's Upper Bay – in full view of Ellis and Liberty Island tourists and thousands of commuters on the Staten Island ferry.
The visit – on the back of three weeks of intensive trials with the new F-35 Lightning jet – allows the ship to host several high profile national and international events. There will also be time for the ship's 1,500 crewmembers to relax and explore one of the world's greatest cities.
"I am delighted and proud to have brought HMS Queen Elizabeth into New York Harbour for the first time," said Commanding Officer Captain Jerry Kyd. "This visit is very symbolic of the intimate relationship the Royal Navy has with the US Navy and Marine Corps and comes at the mid-way point in the F-35 flight trials – we have over 170 embarked US staff at the moment on board in support."
The Portsmouth-based carrier was welcomed into the city which never sleeps by Defence Secretary Gavin Williamson who hailed the leviathan's arrival as a key moment in Anglo-American relations. "HMS Queen Elizabeth is not just a warship, but a symbol of our enduring commitment to our security, and the security of our allies too," he said. "This state-of-the-art ship is built on more than 470 years of proud Royal Navy history and her entry into New York Harbor shows that our armed forces are ready to stand by our allies for generations to come."
The visit brings to an end Captain Kyd's stint as the first Commanding Officer of HMS Queen Elizabeth. He hands over to Captain Nick Cooke-Priest who will take the future flagship through her second spell of Lightning trials.
Those trials resume with far more achieved in the first three weeks than anticipated: 98 take-offs using the ski ramp, the first 'rolling' landing, bringing the F-35 to a stop on the flight deck instead of the aircraft dropping down vertically, night flying and even some rough weather trials to begin pushing the conditions in which the carrier can operate her air power safely.
The opinions expressed herein are the author's and not necessarily those of The Maritime Executive.