Firefighting Under Way for Stricken Maersk Boxship
Three vessels have commenced firefighting operations for the stricken containership Maersk Honam, which is burning and adrift off the coast of Oman.
The crew of the Honam have been brought to shore in southern India, Maersk Line said in an update. Most have been released from medical treatment, but an unspecified number are still receiving intensive care. One died after the rescue and four crewmembers remain missing, including two Philippine nationals, one Indian national and one individual from South Africa.
"We are very saddened by the loss of life . . . We can confirm that one of the total of 27 crewmembers has tragically died," said Maersk Line COO Soren Toft, speaking to ABS CBN. "Our condolences are with them and their loved ones. Furthermore we can say that four of the 27 crewmembers are missing. We are continuing search and rescue operations in the hope to find them, but we have to say regretfully that as time passes, our hope is fading and the chances of finding them alive are diminishing. We are however not giving up."
Toft said that it is still too early to conclude the cause of the fire, but it is known that it started in the number three cargo hold, directly in front of the accommodations. The crew, in consultation with shoreside advisers, tried to fight the fire with a CO2 fixed firefighting system. The effort was unsuccessful and the master decided to order abandon ship. The crew were rescued by the good samaritan vessel ALS Ceres.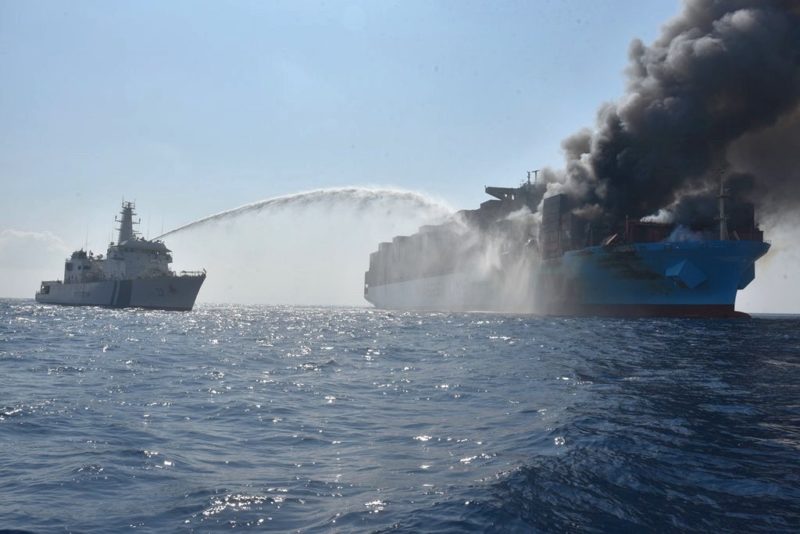 The Indian Coast Guard initiated firefighting efforts with the patrol vessel Shoor Wednesday night, and the offshore vessels CSC Nelson and Maersk Involver arrived Thursday morning. Both Smit Salvage and Ardent have been hired for the salvage operations, and Maersk has dispatched two of its own engineers to Salalah, Oman to work with the professional salvage teams.
The Honam is carrying about 8,000 containers totaling to about 12,000 TEU, including an unspecified quantity of dangerous goods. Toft says that she departed China just before the Chinese New Year, and is almost fully laden due to the high seasonal cargo volume.
The Honam was built last year, and has a total capacity of about 15,000 TEU. She is flagged in Singapore.
@IndiaCoastGuard Ship Shoor continues to fight fire onboard MV Maersk Honam at High seas. Fire has been successfully localized and prevented from spreading. Two tugs CSC Nelson &, Maersk Involver have also joined in Fire Fighting operation today.@DefenceMinIndia @SpokespersonMoD pic.twitter.com/YK6b53VYD5

— Indian Coast Guard (@IndiaCoastGuard) March 9, 2018