Tug Malta?s Damen ASD 2913 Named in Malta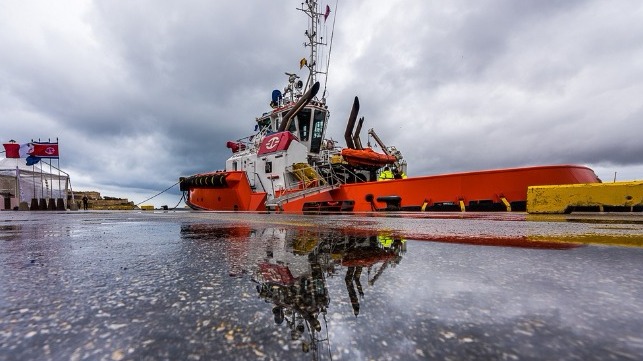 On Friday, February 9, Tug Malta's Damen ASD 2913 was named St. Angelo at a ceremony attended by the Prime Minister of Malta, Joseph Muscat, and the island nation's Minister of Transport, Ian Borg. Acting as sponsor of the vessel was Michelle Muscat, the wife of the Prime Minister. Tug Malta is part of the Rimorchiatori Riuniti Group. The ceremony was also attended by Tug Malta Chairman John E. Sullivan and CEO Mario Mizzi, Rimorchiatori Riuniti Group Chiefs Giovanni Delle Piane and Gregorio Gavarone and Damen Sales Manager Antonio Marte.
In his address, the Prime Minister said that the vessel was an indication of Tug Malta's commitment to helping Malta establish as a global player in the maritime sector. He pointed out that the tug will provide port towage services and environmental assistance, and will also be able to serve the island's LNG needs, by safely operating at Delimara LNG terminal.
Sullivan in his speech explained that Damen has outfitted the tug with a number of options to ensure its suitability for such tasks, including a gas protection system, double drum render recovery winch, firefighting system and oil recovery capabilities. Sullivan stated that the acquisition of the tug is fully in line with Tug Malta and Rimorchiatori Riuniti ambitions to provide an excellent service with a modern fleet.
The standard design of the Damen ASD Tug is a compact, yet powerful vessel offering over 80 tons of bollard pull for escort and direct towing operations in harbours and coastal waters.
During the ceremony, Marte, who is responsible for Damen sales in the region, thanked Mrs. Muscat for carrying out the role of ship's sponsor and said, "On behalf of the Damen Shipyards Group I would like to thank the management of Tug Malta and Rimorchiatori Riuniti for the trust they have placed in Damen. Over the years we have established a relationship that goes beyond that of customer and supplier – a partnership and friendship based on mutual trust. I wish for this relationship to continue for many years ahead."
Marte concluded saying, "I would like to offer my best wishes to the crew of St. Angelo, for many pleasant and safe operations aboard."
The products and services herein described in this press release are not endorsed by The Maritime Executive.