How to Dress Your Dredge Pump for Success: Dyneema Outer Pump Covers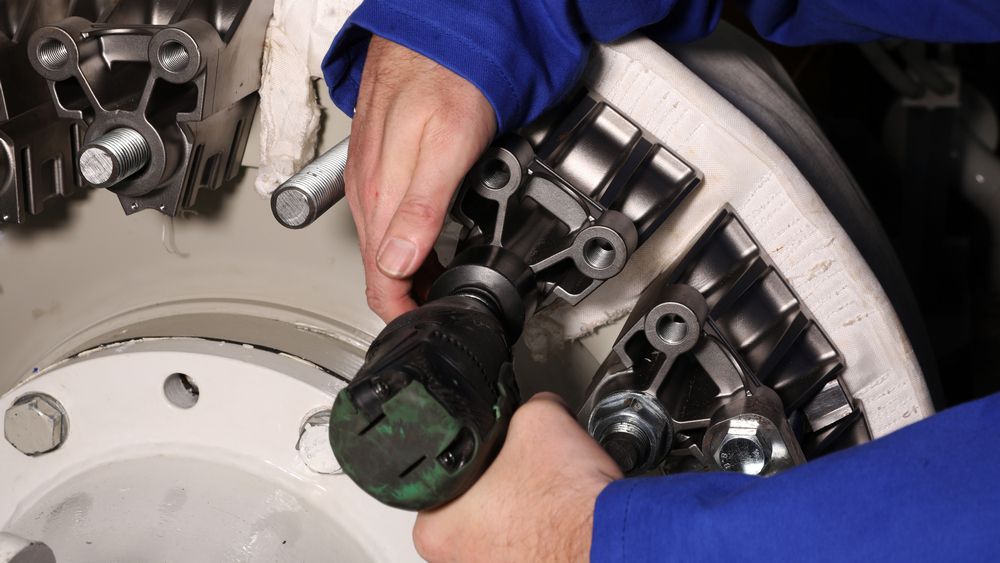 Dredge pumps can be fitted out with a second outer pump casing. Up to now, this meant a large, heavy piece of steel. Pioneering research by Damen R&D engineers has resulted in a patented pump cover, which can be zipped onto your current dredge pump effortlessly. Full details will be uncovered at the CEDA Dredging Days.
The new DynaCover is made of finely woven super strong Dyneema fibres, which can be mounted around any existing cast pump casing. The total weight is only 10% of a similar steel casing, resulting in serious weight gain. Moreover, the limited size of the cover results in a lower position of the entire dredge pump which is favourable for the dredge pumps suction properties. Using the outer cover, the inner pump casing can be worn to the max and enhances crew safety significantly on board at the same time. The DynaCover consists of a Dyneema clamp-mounted inner cover and a NOMEX zipped-on outer cover.
The choice of Dyneema is a logical one. The Ultra High Molecular Weight Polyethylene (UHMWPE) fibres have extreme long molecular aligned chains, high crystallization, and low density to transfer load more effectively to the polymer backbone. The fibres are stronger at the same weight or lighter at the same strength than alternatives and therefore typically used for making i.e. ballistic bulletproof vests.
All technology on the super-fibres and their application comes from PROTEQ bodygear, a company specialised in developing and producing tailor-made bulletproof vests. For the DynaCover, PROTEQ uses an endless woven fabric of Dyneema-fibres consisting of multiple layers of uninterrupted material, of which the strength is comparable to an astonishing 40 mm steel. The total amount of finely-woven inert super-fibre optimally absorb energy in all layers at ballistic speeds. The extreme high modulus determines the high sonic velocity in the fibre indicating the area and layers of the fabrics involved in stopping projectiles. The advantages of this man-made material are innumerable, up to 15 times stronger than steel, floats on water and resistant to moisture, UV and chemicals as well as 100% recyclable.
Around the Dyna-Cover, a NOMEX outer cover is zipped. The innovative zip design not only ensures simple mounting, but also acts as detector for a burst inner pump casing. The Dyneema cover being water tight, the burst casing is detected by a tension QuickBurst zipper in the NOMEX cover automatic opening under higher tension. Once a new inner casing is mounted, both covers can be re-used by simply re-zipping the QuickBurst zipper.
Full details of the ground breaking design of the patented DynaCover can be found at the CEDA Dredging Days. On November 10 at 11.00, Mr Ewout van Duursen, Damen Research engineer, will present his paper on the design process, the various full scale pressure test and their results. The Damen booth will show the DynaCover, and Mr Van Duursen will be present for further explanations.
The DynaCover shows out-of-the-box research resulting in an innovation which will be put to good use in the dredging industry.
About Damen Dredging Equipment
Damen Dredging Equipment is a specialised supplier of dredging equipment and dredging instrumentation & automation. Fully owned by Damen Shipyards Group and based in Nijkerk, the Netherlands, the company has over 75 years of experience in the construction of dredging equipment serving the worldwide dredging industry. The dredging tools are all built to specific customer requirements, making use of a wide range of standard equipment.
More information can be found at www.damen.com.
Damen Shipyards Group
Damen Shipyards Group operates 33 shipbuilding and repair yards, employing 9,000 people worldwide. Damen has delivered more than 6,000 vessels in more than 100 countries and delivers some 180 vessels annually to customers worldwide. Based on its unique, standardised ship-design concept Damen is able to guarantee consistent quality.
Damen's focus on standardisation, modular construction and keeping vessels in stock leads to short delivery times, low 'total cost of ownership', high resale values and reliable performance. Furthermore, Damen vessels are based on thorough R&D and proven technology.
Damen offers a wide range of products, including tugs, workboats, naval and patrol vessels, high speed craft, cargo vessels, dredgers, vessels for the offshore industry, ferries, pontoons and superyachts.
For nearly all vessel types Damen offers a broad range of services, including maintenance, spare parts delivery, training and the transfer of (shipbuilding) know-how. Damen also offers a variety of marine components, such as nozzles, rudders, anchors, anchor chains and steel works.
Damen Shiprepair & Conversion (DSC) has a worldwide network of sixteen repair and conversion yards of which twelve are located in North West Europe. Facilities at the yards include more than 50 floating and (covered) drydocks, the largest of which is 420 x 90 metres, as well as slopes, ship lifts and indoor halls. Projects range from the smallest simple repairs through Class' maintenance to complex refits and the complete conversion of large offshore structures. DSC completes around 1,350 repair and maintenance jobs annually, both at yards as well as in ports and during voyage.
The products and services herein described in this press release are not endorsed by The Maritime Executive.