Hurricane Irma Forces Cruise Lines to Divert Ships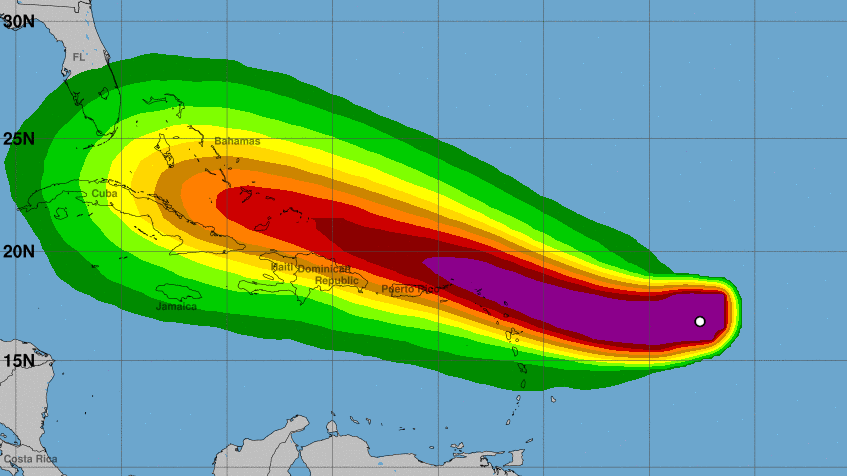 Multiple cruise lines are altering their sailings as Hurricane Irma approaches the Caribbean. The current forecast predicts that the hurricane will reach Anguilla on Wednesday at Category Four, with sustained winds of 125 knots and gusts to 150 knots.
The islands in the storm's path include many popular cruise destinations. Antigua, Barbuda, Montserrat, St. Kitts and Nevis and Anguilla are under a hurricane watch. The British Virgin Islands, Saba, St. Eustatius, St. Maarten, St. Barthelemy, Guadeloupe, the U.S. Virgin Islands, Puerto Rico, Vieques and Culebra are under a hurricane warning.
1230pm - Preliminary and non-operational GOES16 IR imagery loop of #Irma. Deeper reds denote intense storms near the core. #flwx pic.twitter.com/Obuu77rVE4

— NWS Tampa Bay (@NWSTampaBay) September 4, 2017
The vessels Carnival Glory, Carnival Splendor, Carnival Magic, Carnival Pride, Royal Caribbean's Allure of the Seas and MSC's Divina all intend to head for the Western Caribbean to be out of the storm's path. All have already departed their home ports.
All three cruise lines are still operating as normal in other areas. Royal Caribbean's chief meteorologist, James Van Fleet, wrote Monday that passengers on the Empress of the Seas are still "good to go" for today's voyage from Florida to Key West and Cuba. The ship "will get there and back before Irma is close," he said in a Tweet. He added that the firm is monitoring the storm's potential effects on its other itineraries and will update passengers as the weather forecast develops.
MSC said in a statement that it does not expect that the storm will have any effects on future cruises (other than the Divina's current voyage). For passengers on the Divina, MSC will refund any affected shore excursion add-ons that have been canceled by the change in ports of call.
The storm could potentially affect the continental U.S., and Florida governor Rick Scott warned his state's residents that they should be prepared for "any potential storm." The National Hurricane Center concurred, encouraging everyone in hurricane-prone areas to be sure to have an emergency plan in place. Florida is the "cruise capital" of the world, with multiple ports serving tens of thousands of cruisers a day, and a hurricane could have a disruptive effect on departures.