ABS and MSC Trial Condition-Based Class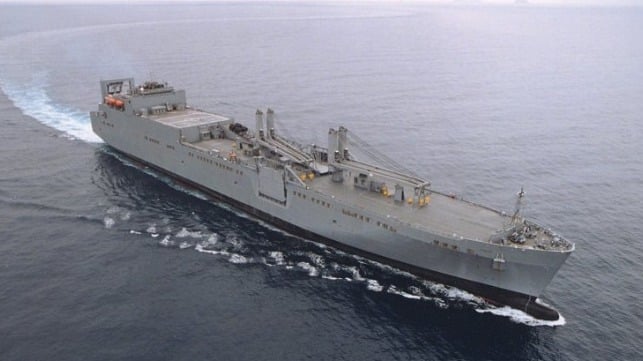 In a first for vessel classification and inspection, the American Bureau of Shipping is embarking on a two-year project with the U.S. Navy's Military Sealift Command to deliver bow-to-stern, condition-based "class asset management."
ABS will build a "digital twin" for each of three MSC vessels based on detailed survey assessments. It will then use data from sensors mounted on the ship's hull and machinery to update that "twin," creating a comprehensive digital record of the ship's condition that can be used to detect abnormal conditions and predict problems before they occur. It will also inform maintenance planning, according to MSC engineering director Andrew Busk. "The program will provide a data platform to support timely decisions as well as enhanced planning of vessel overhaul and repair periods," Busk said in a statement.
The program will also alter the way that the vessels are classed. As ABS' detailed records and software analytics will create a real-time picture of the vessel's condition, the class society's inspectors will be able to focus their surveys on the actual condition of structures and machinery, rather than on traditional maintenance and inspection timetables. "Integrating condition-based maintenance into the survey model is the future of class, and we are delivering it today," said ABS chairman, president and CEO Christopher J. Wiernicki. "The ABS Condition-based Class Model solution will help MSC target critical areas for repair, prioritize maintenance requirements, and more efficiently schedule and use resources to improve availability."
According to Howard Fireman, ABS Chief Digital Officer, ship-specific monitoring will include combinations of sensors that monitor ship motion, slamming pressures, longitudinal hull girder loads, transverse hull girder loads, torsional load, heat loads and sea state conditions. Existing onboard machinery sensors are used to cover the engine and propulsion systems.
"This pilot will prove new concepts that will support our ultimate goal of making class less prescriptive and more focused on the actual condition of the vessel," said Fireman. "The ongoing initial two phases of this pilot includes alignment of MSC's maintenance schedule and ABS class surveys along with implementation of a data-driven survey process. We are transitioning the early deliverables from our class-based condition monitoring pilot activities to other clients."
The three vessels in the trial program cover most of the spectrum of MSC's civilian-crewed fleet. ABS and its partners will create digital twins for the USNS Spearhead, an aluminum-hulled expeditionary fast transport; the USNS Amelia Earhart, a dry cargo/ammunition vessel; and the USNS Pomeroy, a Watson-class ro/ro ship in the Prepositioning Program.