W?rtsil? Donates Engine to Montana State University's Diesel Technology Center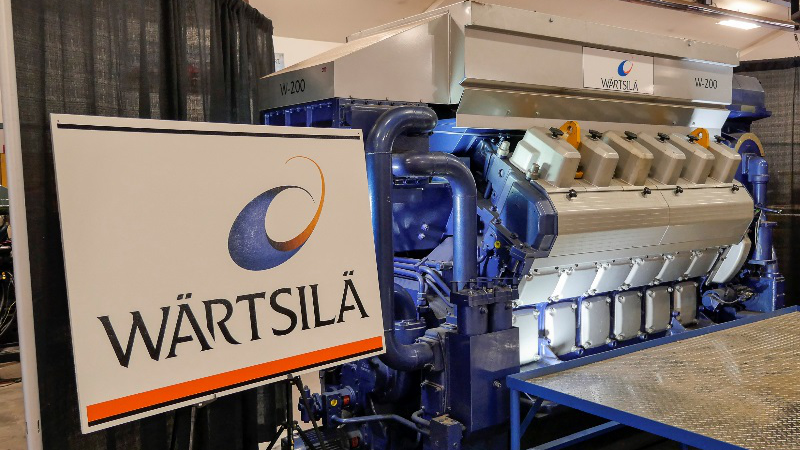 Corporate officials from Wärtsilä North America were on the campus of Montana State University-Northern in October to look over their recent engine donation and to tour the new Diesel Technology Center, which is currently under construction.
The donated engine and related tools from Wärtsilä are valued at $1.1 million dollars. The engine is a 12-cylinder Wärtsilä 200 high-speed diesel engine and will be used in Northern's "Big Bore Lab" in the university's future Diesel Technology Center.
This donation will help to expand the already existing partnership between the two organizations. Each summer, Wärtsilä hosts an internship program with MSU-Northern, which offers students hands-on knowledge working in the field. The interns are paired with a Wärtsilä Mechanical Superintendent who acts as a mentor for onsite work in the workshop as well as on customer power plants and customer vessels. The donated engine will give students the opportunity to have an early understanding of a Wärtsilä engine prior to applying for the internship program.
"We have had over 20 graduates work for Wärtsilä over the years and we really appreciate the attitude and work ethic we get from Northern's students," explained Sean Carey, Services Unit Director for USA. "We are growing around the world and we need lots of service engineers to help us keep up with the growing demands of our industry. That's why we are continuing our program with MSU-Northern and we want to grow that program," said Carey.
"My department consists of the hiring, training and developing new upcoming engineers," said Juan Ruiz, Field Service Resource Manager for Wärtsilä North America. "We have traveled from Fort Lauderdale, Florida to MSU-Northern to strengthen our relationship with the school. We have been working with the school since 2001 so we know the school very well. The preparation the students receive from this program is second to none. The students are hardworking individuals and we are happy to have all of them, or as many as we can," said Ruiz.
The 12-cylinder, 2.23 MW (3000 horsepower) engine was transported from the Wärtsilä Land and Sea Academy Training Center in Fort Lauderdale, Florida. This type of engine is used for stand-by/emergency power, generator sets and some smaller marine vessels. The basic components of this engine are similar to other larger Wärtsilä engines, making this donated equipment an ideal trainer for MSU-Northern's diesel technology students.
In addition to the engine, Wärtsilä is providing manuals, faculty training and specialized tools designed to work on the equipment. Faculty will be able to teach fuel systems, components, component removal and installation using the correct and safe methods as per Wärtsilä procedures.
"It is so exciting to see this engine finally arrive on campus after much discussion and planning," said Greg Kegel, Chancellor of MSU-Northern. "I specifically want to thank Cole Lowder and Juan Ruiz from Wärtsilä, and Greg Clouse and Larry Strizich from MSU-Northern, for securing this engine for MSU-Northern's diesel program. I also want to thank Charles Otto with Bill Baltrush Construction for donating the large crane and crew which was used to unload the engine on campus," said Kegel.
"Industry partnerships, like we have with Wärtsilä make Northern's Diesel program one of the best in the country," explained Kegel. "Wärtsilä has hired many of Northern's graduates over the years and the donation of this engine will make it easier for the students who are hired by Wärtsilä to hit the ground running," said Kegel.
The Big Bore Lab will house the Wärtsilä 200 engine and two locomotive training engines. The new lab features an overhead 5-ton bridge crane, which will make it possible for students to safely and efficiently remove and reinstall parts on the various training equipment.
The Grand Opening for the new Diesel Technology Center will be May 23, 2018 during the May Board of Regents meeting on the campus of MSU-Northern.
About Wärtsilä
Wärtsilä is a global leader in advanced technologies and complete lifecycle solutions for the marine and energy markets. By emphasizing sustainable innovation and total efficiency, Wärtsilä maximizes the environmental and economic performance of the vessels and power plants of its customers. In 2016, Wärtsilä's net sales totaled EUR 4.8 billion with approximately 18,000 employees. The company has operations in over 200 locations in more than 70 countries around the world. Wärtsilä is listed on Nasdaq Helsinki. For more information, please visit www.wartsila.com.
The products and services herein described in this press release are not endorsed by The Maritime Executive.