Port of Lorain Receives 2017 Season "Pacesetter Award"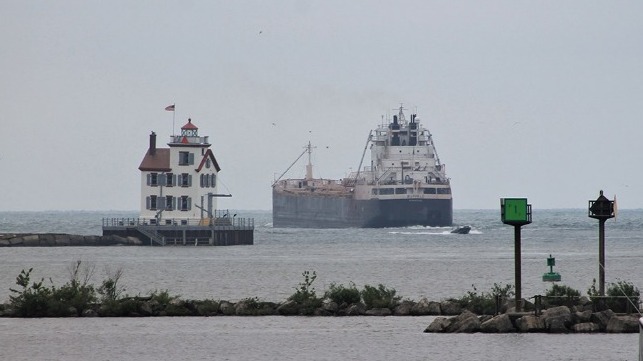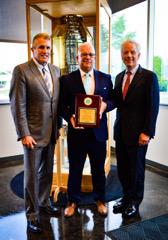 The Port of Lorain reported a 100 percent increase in international traffic during the 2017 navigation season, earning it the Robert J. Lewis Pacesetter Award from the Saint Lawrence Seaway Development Corporation (SLSDC), an agency of the U.S. Department of Transportation.

Craig H. Middlebrook, Deputy Administrator of the SLSDC presented the award to Port of Lorain Executive Director Tom Brown, Chairman of the Board Brad Mullins and the entire board of directors, the Port was among only six recipients to be honored for the 2017 season.

"You are in a distinguished group of only one of six U.S. Ports that earned this award," stated Craig H. Middlebrook, SLSDC Deputy Administrator, in a speech given at the Port of Lorain's June board meeting. "I think that's a testament to your willingness, and Tom's hustle, that Lorain is here to look for opportunities, to maximize opportunities, and to turn opportunities around where they present themselves."

Established in 1992, the SLSDC Pacesetter Award recognizes U.S. ports who have registered increases in international cargo tonnage shipped through their ports and through the St. Lawrence Seaway. Over the past 25 years, the SLSDC has distributed more than 140 Pacesetter Awards to 14 different Great Lakes/Seaway ports.

"We established this award because we wanted to raise awareness among the general public about how important ports are in generating economic income and benefits and jobs for the local community," Middlebrook said.
About the Great Lakes Seaway Partnership
The Great Lakes Seaway Partnership is a coalition of leading US and Canadian maritime organizations working to enhance public understanding of the benefits of commercial shipping in the Great Lakes Seaway region of North America. The organization manages an education-focused communications program, sponsors research and works closely with media, policy makers, community groups, allied industries, environmental stakeholders and the general public to highlight the positive attributes of marine transportation.
The Great Lakes-St. Lawrence Seaway System is a marine highway that extends 2,300 miles from the Atlantic Ocean to the Great Lakes. Approximately 160 million tons of cargo travels over the System on an annual basis, supporting more than 227,000 jobs and $34 billion in economic activity.
For more information, please visit http://www.greatlakesseaway.org.
The products and services herein described in this press release are not endorsed by The Maritime Executive.