Port Canaveral Welcomes Maritime Academy?Training Ship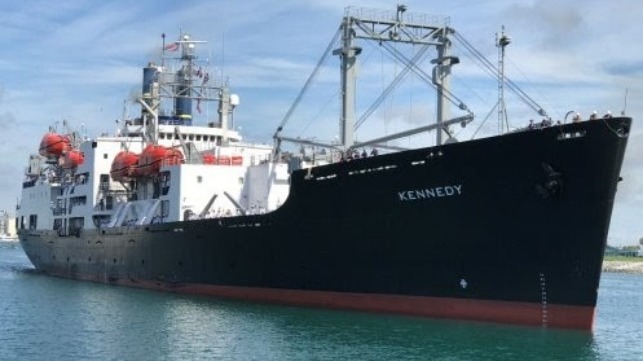 Texas A&M Maritime Academy cadets and their faculty sailed into Port Canaveral aboard the U.S. Maritime Service Training Ship Kennedy, marking the first arrival of the vessel at the Port. 275 Texas Maritime Academy cadets are on-board the vessel to gain critical hands-on ship operating experience in fulfillment of a required seven-week sea term.
Following Port tradition, Port Canaveral CEO Captain John Murray welcomed the Kennedy's Captain Michael Campbell and presented him with a traditional plaque to commemorate the vessel's inaugural visit to the Port.
"The training and learning opportunities our nation's maritime academies provide for their students help to prepare them for future careers in the maritime industry – whether it's on board a cruise or cargo ship, or in a port like ours," stated Port CEO Captain John Murray. "We are proud to welcome the Kennedy to Port Canaveral and wish the Texas Maritime cadets on board great success with their sea term."
The TS Kennedy is owned and operated by the U.S. Maritime Administration (MARAD) and has been used as a training vessel by Massachusetts Maritime Academy since 2003. Texas A&M Maritime Academy and Massachusetts Maritime Academy are two of six maritime academies in the U.S. offering specialized maritime training and education programs. Academy cadets pursuing certain maritime careers must sail a specified number of hours to earn a certification.
The 540-foot TS Kennedy was once a commercially-operated MARAD breakbulk cargo freighter named the Velma Lykes. She served the U.S. Government for over 20 years including multiple tours to the Persian Gulf during the First Gulf War. MARAD subsequently converted the vessel to be a training ship, and assigned her to Massachusetts Maritime Academy where it was christened the Enterprise in 2003. In 2009, she underwent an extensive $10 million rehabilitation conversion and renamed the TS Kennedy. In 2012, she was activated by MARAD to support FEMA in response to Hurricane Sandy. More recently, she was deployed by MARAD to Texas and Puerto Rico to assist with relief efforts following Hurricanes Maria and Irma.
Port Canaveral is a popular port of call and has been historically welcoming students from various maritime programs for many years. Last year, the Port hosted Texas A&M Maritime Academy's TS General Rudder and the U.S. Coast Guard Academy's training vessel, Eagle.
The TS Kennedy will be docked at Port Canaveral until Sunday. No public tours are scheduled.
About Port Canaveral
Led by the elected five-member Canaveral Port Authority Board of Commissioners and Port Director and CEO, Captain John Murray, Port Canaveral is one of the world's most dynamic and exciting ports. A world-class gateway for cruises, cargo, recreation and logistics, as well as a gateway to new frontiers, including space, Port Canaveral hosts nearly 5 million revenue cruise passengers through its state-of-the-art terminals and 6 million tons of cargo annually, including bulk, break-bulk, project, and containerized. The Port is strategically located to service all Florida markets, as well as the Southeastern United States. In addition to world class cruise facilities and diverse cargo operations, Port Canaveral offers more recreational opportunities than all other Florida deep-water seaports combined, including public parks, free public boat ramps, marinas, an entertainment district, and the seven-story interactive exhibit and event venue Exploration Tower.
The products and services herein described in this press release are not endorsed by The Maritime Executive.