MTU Unveils New Integrated Bridge Concept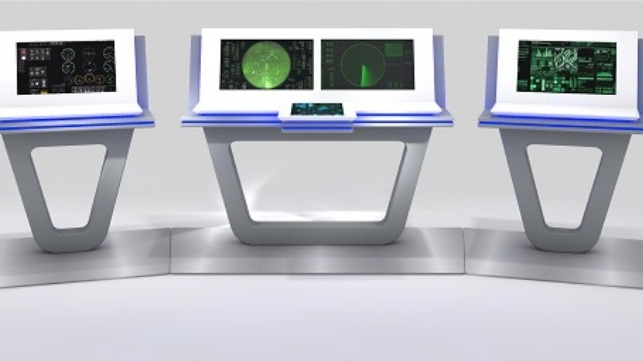 MTU showcases its new integrated bridge concept at the SMM in Hamburg, the leading maritime trade show. The new integrated bridge forms the central point of access to all information that is crucial to safe and efficient ship operation. This relates in particular to the MTU propulsion plant, MTU ship automation, the power management system, navigation, radar and communication. With the new solution, information previously scattered over diverse displays is now collated at a standardized display using a single graphic interface which enables faster overview using an modern visuals concept. The new MTU bridge solution is available for yachts as well as commercial and military vessels equipped with an MTU propulsion system.
Knut Müller, head of marine and governmental business at MTU, said: "MTU already has a good foothold in the market for marine propulsion and ship automation. With our new integrated bridge system we are going a step further by offering the customer a complete systems solution that facilitates better monitoring of the vessel as a whole. By being able to cover the whole spectrum from propulsion system and bridge components to digitalized service and long-term service agreements, we support the customer as a systems solutions provider all along the way."
MTU's new bridge concept integrates the various sub-systems such as propulsion plant, ship automation and navigation at the central control bridge. By making all data available centrally, the information coming from the various sub-systems can be combined and processed using digital analysis. The results are presented for the crew using clear visuals on all monitors networked within the automation system. The captured data can also be stored and transferred for further analysis at a later date. These findings can then be used, for example, to increase availability, reduce life-cycle costs and further enhance operational reliability.
MTU devises its integrated bridge solutions on the basis of in-house expertise and cooperation with strategic partners. MTU began producing ship automation systems as far back as the seventies, and so far has supplied control and monitoring for over 8,000 vessels worldwide.
The products and services herein described in this press release are not endorsed by The Maritime Executive.