Marintec 2017: New VIKING MES Cuts Servicing Costs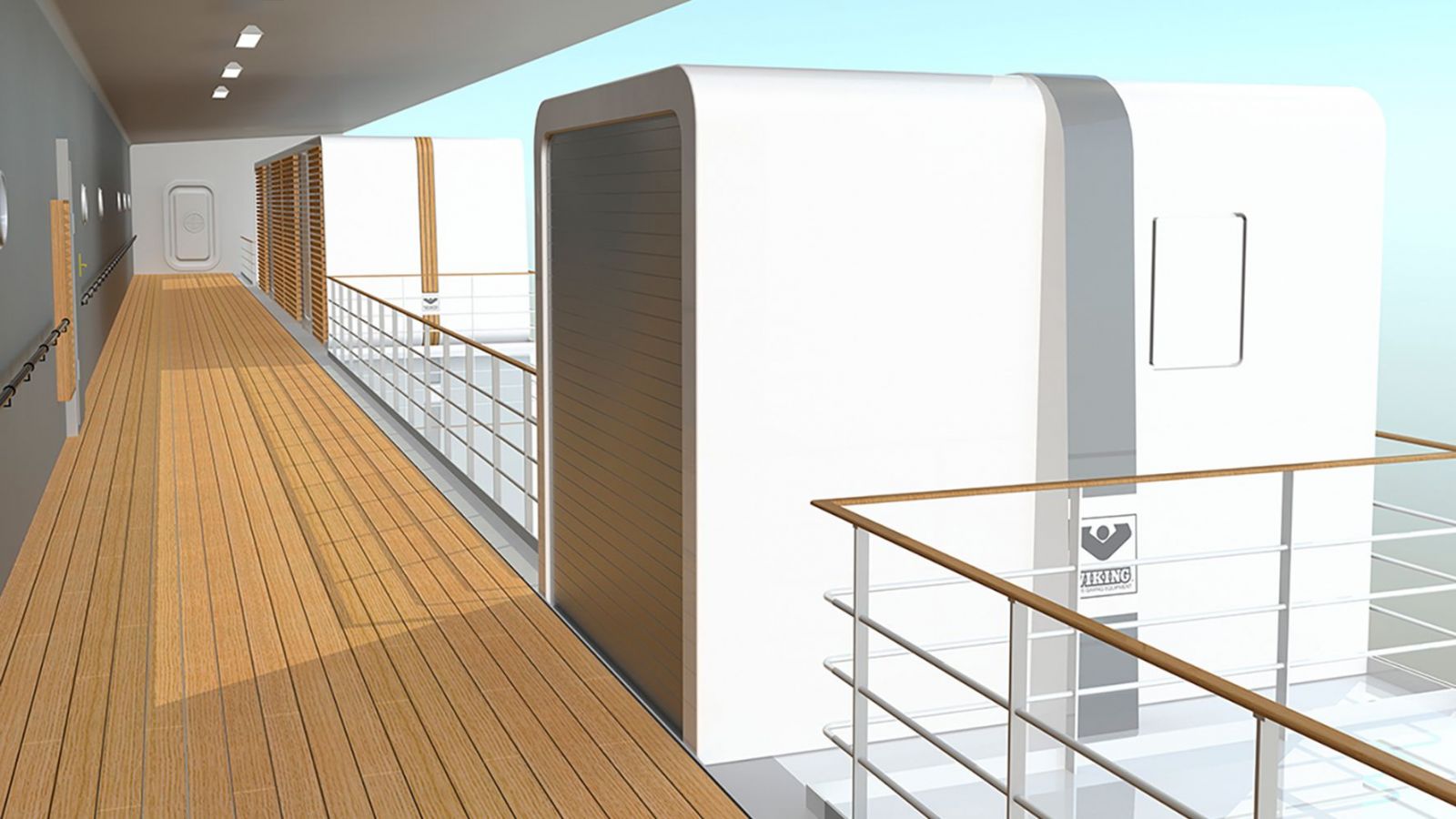 Mandatory servicing of marine evacuation systems (MES) on board passenger vessels is both costly and labour-intensive. At Marintec 2017, VIKING will introduce visitors to its latest MES solution that enables shipowners and operators to significantly reduce servicing costs and administration.

Set in the Chinese metropolis of Shanghai, Marintec 2017 is the largest maritime event in the Asia Pacific region. At Stand N1D61-9, leading maritime safety equipment and servicing provider VIKING Life-Saving Equipment is showcasing its range of cutting-edge maritime safety solutions including the company's latest evolution in marine evacuation systems (MES). Called the VIKING VEC PlusTM, the new MES differs from existing systems in its ease of servicing and fewer mechanical parts, enabling lower lifetime operating costs.

Less logistics and fewer components
Traditional MES servicing involves removing the entire system from the vessel and transporting it to a certified service facility. The system is then serviced, returned to the vessel and reinstalled on board. This process can take up to six days and needs to be completed every year. Shipowners are highly aware of the costs and hassle associated with this process and therefore, the new MES is a welcome solution to a difficult issue.

"The VIKING VEC PlusTM system only needs to be serviced four times over a ten-year period, which means fewer costs resulting from having to shut down vessel operation and transport the MES to a servicing station," says Niels Fraende, VP Sales for Cruise & LifeCraft at VIKING. "We have simplified the design of a traditional MES and increased deployment safety by removing more than 40 percent of the technical components while using gravity-based rather than mechanical launching. This makes it easier for the crew to efficiently operate the system and for our technicians to service the system on board the vessel as well," he adds.

Retrofit or new-build
Installing the VIKING VEC Plus is surprisingly easy on board almost any passenger vessel, whether it is a retrofit or a new-build. "Choosing the VEC PlusTM as a new-build option, for example, reduces installation time and costs at the shipyard, because the new, simplified system allows shipowners to incorporate new operating cost-efficiencies into their vessels," says Niels Fraende.

What meets the eye
The VEC Plus is installed in a compact storage unit that looks right at home on today's passenger and cruise vessels. The sleek visual appearance of the unit is largely due to a dedicated industrial design effort aimed at matching its exterior to modern ship aesthetics, while also instilling confidence in both passengers and crew.

"Passengers can be very safety-conscious, so we wanted the complete package to look solid and efficient, providing reassurance of its functionality via an up-to-date appearance and a visually high build quality. Being and feeling safe go hand in hand," Niels Fraende elaborates.

Training via technology
Every VIKING VEC PlusTM comes not only with a conventional instruction manual, but also with VIKING Saatsea – a 24/7, on board, computer-based crew training solution that helps to ensure crew are certified, ready and able to maintain and deploy the MES in the event of an emergency. The unique solution allows managers to get an ever-updated overview of crew competencies, tracking and reporting their training progress.

For a high-quality, low-maintenance MES option, the VIKING VEC PlusTM is leading the way in ensuring shipowners can continue to maintain a high level of on board safety and remain compliant when it comes to maritime safety requirements - all without breaking operating budgets.
About VIKING

VIKING Life-Saving Equipment is a global market leader in maritime and offshore safety, providing and servicing safety and fire-fighting equipment for passenger and cargo ships, offshore installations, fishing vessels, the navy, fire departments and leisure yachts.

VIKING is a privately held corporation founded in 1960 with group headquarters in Esbjerg, Denmark. Products are manufactured in Denmark, Norway, Bulgaria and Thailand. VIKING offers a broad range of off-the-shelf and tailored safety solutions and systems certified in accordance with the latest requirements of the IMO, SOLAS, EU and USCG. The product portfolio includes chute and slide-based marine and offshore evacuation and crew transfer systems, liferafts, lifejackets, immersion suits, fire suits, work suits, pilot suits, helicopter transportation suits, MOB boats, davits, pilot ladders, signs, and other lifesaving appliances. VIKING Shipowner and Offshore Safety Agreements offer uniquely customizable concepts that incorporate safety products, global servicing, single-source management, and financing in a variety of fixed price structures.

With 2,000 employees worldwide, the unique VIKING network of branch offices, agents, 260 certified servicing stations and worldwide stock points makes VIKING a truly global provider at convenient locations in all significant markets. www.VIKING-life.com
The products and services herein described in this press release are not endorsed by The Maritime Executive.