Damen Signs with Rimorchiatori Spezzini for Two Tugs ASD 2411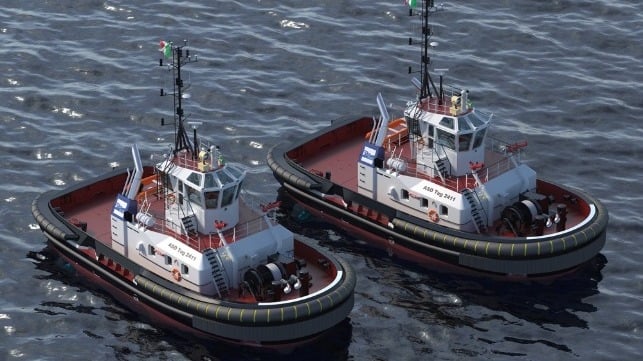 Rimorchiatori Spezzini, a subsidiary of the Scafi Group, has contracted Damen Shipyards Group for two new Damen ASD Tugs 2411. The order comes as part of Scafi's plans to expand its fleet in response to the newly assigned harbor towage concession in the port of Safi, Morocco.
The Scafi Group is one of Italy's leading harbor towage companies, operating its four subsidiaries in major international ports such as La Spezia, Savona, Vado Ligure, Gioia Tauro and Rijeka.
"Damen's relationship with the Scafi Group dates back to 1992, with the acquisition of the company's first ASD tug. Over the last 26 years this relationship has gone from strength to strength", said Damen Sales Manager Antonio Marte. "These two new tugs will be the 16th and 17th Damen tugs for Scafi – and therefore represent the next exciting chapter in the history of the two companies."
A powerful punch
The two new ASD Tugs will be based in the Port of La Spezia, an important maritime hub for commercial markets in North Italy, Austria, Switzerland and Germany. The compact and powerful design of the ASD 2411 will be an added value for the operations in the confined waters of the port; assisting large container vessels, bulk carriers and gas tankers, in particular.
Rimorchiatori Spezzini's Managing Director Paolo Visco said, "I am very happy to continue a long term business relationship between Scafi group and Damen with this double order. Of course, if we ordered seventeen tugs in 26 years with the same builder it's because we have been always very satisfied with Damen's ability to deliver reliable tugs with high quality standards. As tug owners, we have the obligation to adapt our fleet to the needs of the ports where we operate, and now the trend is to serve bigger and bigger vessels within a limited area of operation. For this reason, the 2411 design was chosen as the most suitable for our needs. This order also enters into a group strategy of fleet turnover and renewal, which allows us in the near future to dedicate three tugs to the newly assigned tender in Safi, Morocco."
In terms of bollard pull, Damen's ASD Tug 2411 packs a powerful 70-tonne punch in order to achieve effective operations. This is backed up by the modern and effective hull and skeg design that provide stability and manoeuvrability under tough working conditions.
Spring delivery
"We are very proud that Scafi has selected one of Damen's most successful tugboats. I wish to thank the management Board of Scafi for their renewed trust in our company," added Marte. "I am looking forward to seeing these two boats in operations in La Spezia."
The two tugboats are scheduled for delivery in Q1 and Q2 2019 respectively.
The products and services herein described in this press release are not endorsed by The Maritime Executive.