CR Ocean Engineering Awarded Multi-Scrubber Contract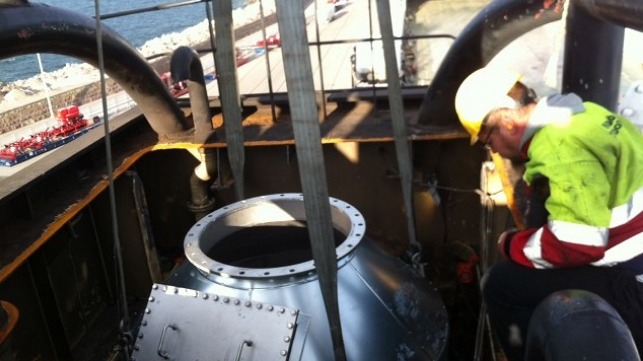 After evaluation of available options, Glasgow based Songa Shipmanagement Ltd. selected CR Ocean Engineering, LLC, (CROE) as the supplier of exhaust gas cleaning systems (scrubbers) for its oil/chemical tankers and heavy lift vessels.

The contract also includes an option to add scrubbers to additional vessels.
The scrubbers will enter commercial operations commencing in the late summer 2018 and go on throughout the beginning of 2020.
In addition to the existing 0.1 percent sulfur fuel Emission Control Areas (ECAs) in Europe and North America, starting January 1, 2020, the rest of the world will need to reduce the sulfur fuel emissions (and associated emissions from their marine engines and boilers) to 0.5 percent sulfur from the current 3.5 percent. As with the 0.1 percent sulfur ECAs, the global 0.5 percent ECA will present shipping companies to with the choice of using the more expensive lower sulfur fuel or use alternate technologies such as scrubbing systems.
Allied Shipbroking called scrubbing technology, the "fastest and cheapest" way to reduce harmful diesel fuel emissions to meet the stringent IMO compliance requirements for the shipping industry scheduled to go into effect in 2020.
CROE leveraged over 60 years of experience in air pollution controls to develop scrubbing systems for the maritime industry. Their scrubbing systems are available into three basic designs, open loop, closed loop and hybrid. These can be single stream (controlling emissions from a single engine or boiler) or multi-stream (controlling emissions from multiple engines/boilers combined) configuration.
Due to the small size and compact configuration of the CROE system they can be installed in new builds or retrofitted to existing vessels.
"We are proud to be working with Songa," said Nick Confuorto, CROE president and COO. "They have proven to be an excellent company to work with and it's an honor for us to help them face this major emissions challenge."
According to Songa Shipmanagement Ltd. Managing Director, Kenneth MacLeod, "We meet our corporate responsibility knowing that a cleaner environment is good for the planet. And that's everyone's business."
CROE is a family owned business with roots dating back 100 years. With headquarters New Jersey, U.S.A., CROE has sales, service and manufacturing located around the globe to better serve its clients.
The products and services herein described in this press release are not endorsed by The Maritime Executive.