Royal Caribbean Sets Dates for Caribbean Port Calls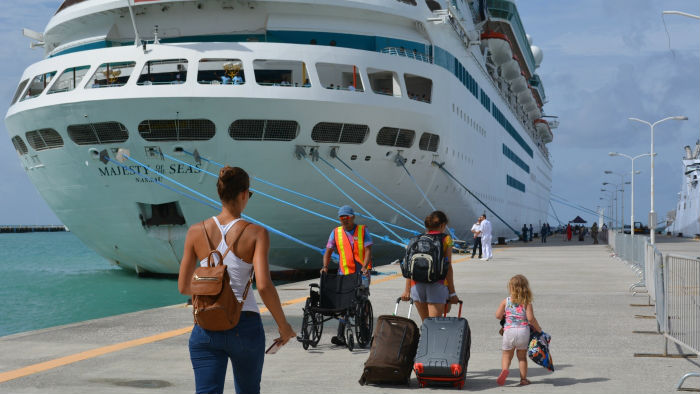 Royal Caribbean International has announced the cruise line's return to San Juan, Puerto Rico and Philipsburg, St. Maarten, after the Caribbean destinations were impacted by recent hurricanes.
On November 30, Freedom of the Seas will be the first ship in the fleet to call on San Juan, Puerto Rico, arriving with approximately 3,782 visitors. As of November 30, all scheduled calls to San Juan and St. Thomas across 10 ships in the Royal Caribbean fleet will operate as planned – including calls from the world's largest cruise ships each sailing with nearly 6,000 new visitors each week – Oasis of the Seas, Allure of the Seas and Harmony of the Seas.
Grandeur of the Seas will be the line's first cruise ship to sail into St. Maarten on December 17 since Majesty of the Seas arrived to provide humanitarian relief last month. The return of power and water to most of St. Maarten means that a majority of the shops, restaurants and bars, and tour operators around Philipsburg will be fully operational. Scheduled visits to St. Maarten will operate as planned starting on December 17 with the exception of Oasis of the Seas, which will make its first call to the island on January 1 during her New Year's Eve cruise.
Additionally, the line will return to St. Croix on January 8 with the arrival of Jewel of the Seas, which will sail from San Juan. All calls to Dominica are canceled through June 2018, and the cruise line is working closely with the local government on a return date to the destination.
"Royal Caribbean is encouraged by the commendable progress that has been made by the governments of Puerto Rico and St. Maarten towards the recovery of these destinations, and it means a lot to us that we are heading back home. We have been part of the Caribbean community for almost 50 years, and for all of us it has been paramount that we focus on supporting our long-standing partners – who feel more like family after so many years," said Michael Bayley, President and CEO, Royal Caribbean International. "Supporting these destinations that are so reliant on tourism is key to the future of the islands and the best thing we – as travelers and businesses – can do for the islands."
Royal Caribbean International contributed to aid efforts in the region. The line transported medical teams, relief supplies and 500 generators to San Juan on board Adventure of the Seas, as well as delivering additional supplies to St. Thomas and St. Croix and transporting approximately 3,000 evacuees to Florida.