Cruise Industry Rebounds with the Caribbean
The cruise industry is successfully rebounding from the hurricanes that left a trail of devastation across the Caribbean. Cruise lines have been able to restart most operations while also continuing their humanitarian and charitable efforts.
Ports such as Antiqua and St. Kitts are again receiving cruise ships. In other places, however, cruise lines have been forced to announce substitutions. Norwegian Cruise Line and MSC Cruises, for example, will temporarily be sending some of their ships to the Western Caribbean and Mexico while the Eastern Caribbean ports recover. Others, including Holland America Line, Princess Cruises and Royal Caribbean, have reworked Eastern Caribbean itineraries using undamaged nearby ports.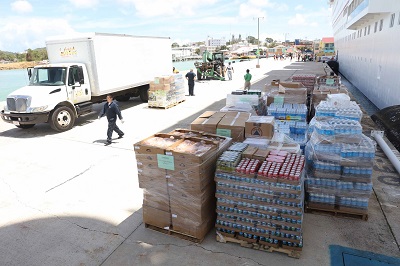 "I think it is important to point out that there are so many ports in what we call the Caribbean," Carnival Corporation President and CEO Arnold Donald told investors on a September 26 quarterly conference call. "The vast majority of them are fully operational. There is beautiful sunshine and beaches and excursions."
Among the largest cruise ports that are currently unavailable are San Juan, St. Thomas, St. Maarten, Dominica and Tortola, while other destinations including Grand Turk in the Bahamas are also still recovering. Some attractions and excursions may not be available, but even these ports remain optimistic that they will be able to resume receiving tourists before the peak winter season.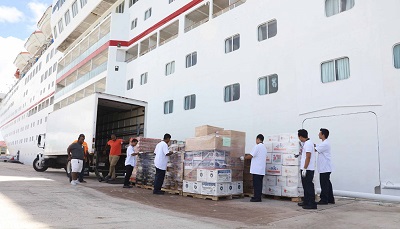 The Governor of the U.S. Virgin Islands is targeting late October to resume cruise ship operations in St. Thomas and St. Croix, and hard-hit Puerto Rico is cautiously optimistic that Old San Juan will soon host cruise ships. This is important for the industry, as San Juan is both a destination and a homeport to cruise ships during the winter months.
Contributing to the Recovery
The cruise lines are continuing their aid efforts. "I have to say I am extremely proud of the way the industry reacted to these hurricanes," Micky Arison, Chairman of Board of Carnival Corporation, told investors. "Everybody was falling over themselves trying to find out how they can help, what ships they can send, what people they can evacuate, what supplies they can send."
Royal Caribbean International, for example, recently transported medical teams, relief supplies and 500 generators to San Juan aboard its Adventure of the Seas, as well as delivering additional supplies to St. Thomas and St. Croix and transporting approximately 3,000 evacuees to Florida. Similarly, the Grand Celebration, which normally operates short cruises from Florida for Bahamas Paradise Cruise Line was sent to St. Croix to house National Guard first responders.
The cruise ships that have resumed operations are also participating in the relief efforts. Carnival Cruise Line, for example, delivered pallets of critical supplies for St. Maarten aboard Carnival Fascination, and additional Carnival ships will be making similar relief drop-offs at other destinations.
Norwegian Cruise Line partnered with All Hands Volunteers to rebuild schools in the Caribbean and will match donations up to $1.25 million, while Royal Caribbean is working with World Vision and has committed to match up to $1 million in donations. The Carnival Corporation, the Miami HEAT Charitable Fund, and the Micky and Madeleine Arison Family Foundation have also pledged up to $10 million in funding and in-kind support beyond a $2 million donation after hurricane Harvey.
The cruise lines are thus demonstrating their commitment to the long-term recovery of the Caribbean's cruise industry and local economies.