Report: Russian Oil Exports Routinely Exceed G7 Price Cap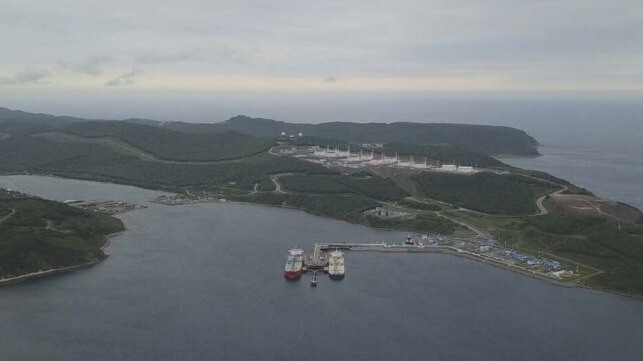 The G7's price cap on the Russian oil trade was designed to reduce Moscow's oil income and keep the flow of Russian crude to the global market steady at the same time. It has succeeded in its second goal - Russia has continued to export oil at a rapid clip - but the price portion of the price cap is another matter. According to multiple reports, Russia has easily evaded the price control using structured transactions and its own tanker fleet. This week, the Financial times reports that virtually all Russian oil is now sold above the intended limit of $60 per barrel.
"The latest data makes the case that we're going to have to toughen up," one EU official told the FT. "There's absolutely no appetite for letting Russia just keep doing this."
Russian producers bring in about $15 billion per month from oil and gas export sales, and the taxes from this revenue stream support the federal budget, including the defense budget. The funds enable Moscow to buy hundreds of combat vehicles and thousands of artillery shells a month for the ongoing invasion of Ukraine.
Ukraine's Western allies want to cut off this revenue stream, but last year, the U.S. Treasury pressed for a novel price cap instead of a strict sanctions regime. The goal was let Russia continue to ship oil, keeping the global energy supply unchanged and avoiding price spikes. The idea was a form of a "buyer's OPEC": unless the oil is sold below $60 a barrel, it can't be insured or moved by a G7 company without risking sanctions. Shipowners, bankers and insurers in the U.S. and the EU are covered by the cap, and can simply use the sale price that their customer provides for the cargo (whether accurate or not) so long as they keep records, according to U.S. Treasury guidance.
This mechanism can be evaded by false attestations, complex sales transactions and by simply avoiding Western services. Russia has spent millions building up its own "shadow fleet" of non-G7 tankers, and it can ship a substantial share of its crude exports without touching the G7 maritime services sector at all. Most shipments of Russian oil to India already travel aboard vessels owned, managed and insured outside of the G7, according to Bloomberg.
Russian oil exporters have been breaching the cap for months. According to Reuters and Argus, the trading price for Russia's benchmark Urals blend reached about $62-63 in July. Russia's Siberian export blend, ESPO, has traded well above this mark for some time - often carried by vessels with G7 links.
A delayed approach to enforcement may be a contributing factor. TankerTrackers.com has identified 140 tankers from the sanctions-busting "dark fleet" which have carried Russian oil since the price cap began; out of them, only two have been blacklisted by the U.S. Treasury.
That may be changing: multiple outlets report that Treasury's Office of Foreign Asset Control has sent letters to dozens of tanker operators, primarily in Greece, to seek information about their Russian oil cargoes. The letter reportedly seeks documentation of compliance with the price cap's provisions.