Navy Removes Amphib C/O Over Engineering Problems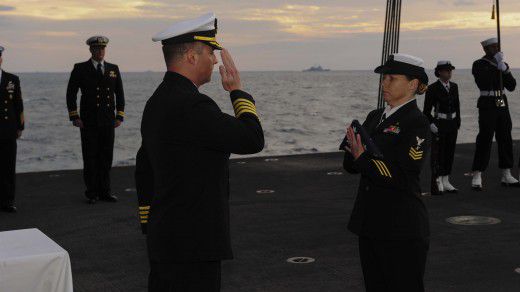 The Navy has relieved the captain and the commanding officer of the San Antonio-class LPD USS Anchorage of their posts, citing an "engineering incident" and the discovery of "improper procedural compliance" in the maintenance of the ship's propulsion systems.
"The loss of confidence followed an investigation into the facts and circumstances surrounding an engineering incident upon the ship's return to San Diego in March," said Navy Surface Forces Pacific in a statement Wednesday.
"Our commanding officers and their executive officers must maintain the highest standards of accountability, and their commanders must have confidence in their ability to lead," said spokesman Cmdr. John Perkins, speaking to the San Diego Union Tribune.
Commanding officer Capt. Jeffrey Craig has been temporarily replaced by Capt. Tom Workman, and XO Lt. Cmdr. Joshua Johnson has ceded his post to Cmdr. Brian Bethea, temporary executive officer.
Change of Command at 7th Fleet
On Wednesday, the Department of Defense announced that Rear Adm. Phillip Sawyer will be appointed the commander of U.S. 7th Fleet. Sawyer will also be promoted to the rank of vice admiral. Previously, Sawyer served as deputy commander of Pacific Fleet, commander of 7th Fleet's submarines, and commander of Pacific Fleet's submarines. Sawyer replaces Vice Adm. Joseph Aucoin, who assumed command in 2015; the Navy has not yet announced Aucoin's next post.
7th Fleet has been rocked by a long-running corruption scandal in which high-ranking officers accepted illicit goods and services in exchange for helping a contractor to defraud the government. 27 individuals have been charged, including Navy captains, commanders and flag officers, and many have admitted guilt in the proceedings – including the man at the center of the scandal, Leonard "Fat Leonard" Glenn Francis, who is cooperating with the investigation. The Justice Department says that there are more than one hundred additional persons of interest in the ongoing inquiry. Aucoin took command at 7th Fleet after the period covered by the investigation had ended.