Korea and China Battle for Shipbuilding Lead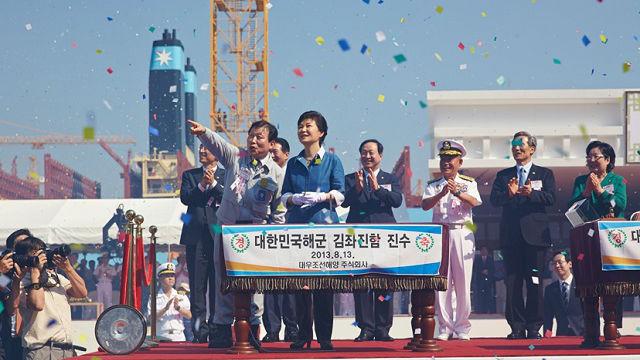 South Korean shipbuilders failed to strike a single deal selling offshore support vessels in the January-April period, reports the Korea Herald, a sign that they are at risk of losing the market to increasingly confident Chinese competitors.
Around three quarters of the OSVs sold worldwide during the period were sold by Chinese shipbuilders.
Companies such as Daewoo Shipbuilding & Marine Engineering and Hyundai Heavy Industries have not been focusing on the vessel type, although the nation leads in drilling and production platforms, says an analyst cited by the news agency.
STX Offshore & Shipbuilding made a start in the market but instead sold STX OSV to Fincantieri in 2012. Hyundai Heavy Industry stated its intention to invest in OSV production in 2013, but is yet to demonstrate action.
"We do not have good projections for the market. It is illogical to think the OSV market would be good when the shipbuilding industry on the whole is doing badly," Hyundai Heavy spokesman Hong Jang-gwan told the Korea Herald.
Clarksons Research indicates that China's OSV order book jumped nearly fivefold over the last five years and now accounts for over 50 percent of the global market.
Tankers and Container Ships
However, the Financial Times reports that demand for tankers and ultra-large container ships is helping South Korean yards cope during the current shipbuilding slump. For example Maersk signed a $1.8 billion order with Daewoo Shipbuilding this month.
Tankers and container ships are a key market for South Korean shipbuilders. Chinese shipyards, by contrast, are struggling with slowing demand for dry bulk carriers, their flagship product, says the Financial Times.
As a result, South Korean shipyards have recaptured lead in new orders, with a market share of 41 percent, compared with Japan's 28.9 per cent and China's 24 per cent, according to Clarksons.
The BRS Group Annual Review released this year states that, with around 36 million dwt in new orders in 2014 versus 46 million in 2013, South Korea's shipbuilders secured 28 percent of all contracts last year. These orders were mainly for tankers (18.1 million dwt, a decline), container ships (4.6 million dwt, a decline), bulk carriers (6.2 million dwt, also a decline) and LNG carriers (a rise at 4.4 million dwt, compared to 2.2m dwt in 2013).
China held a 47 percent share of the market at end 2014, with an orderbook at the end of 2014 valued at 145 million dwt (86.5 million gross tons or about 1,914 ships).