Video: Icy Waters Pin Riverboat Under Bridge on the Hudson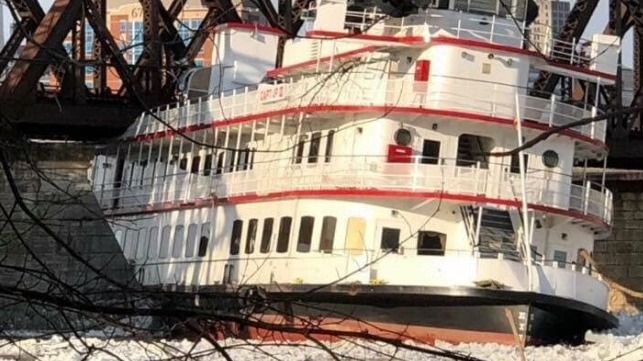 An unoccupied river cruise boat broke its moorings on the Hudson River at Troy, New York on Friday and drifted downstream, striking one bridge in Troy and wedging itself under another in Albany.
The riverboat Captain JP III was one of several vessels, barges and tugs that were torn loose and sent downriver by heavy ice floes and high waters on Friday morning. A video posted by Troy's city government showed them passing down the shoreline in small groups.
The Captain JP drifted closely behind a floating restaurant, the Rusty Anchor, which grazed the underside of Albany's Livingston Avenue rail bridge as it passed downriver. The Captain JP, which has a much higher air draft, came to rest underneath the bridge several minutes later. Its presence did not stall rail traffic, though: video from the scene shows an Amtrak passenger train passing directly above the stricken riverboat.
A video from today's events. The Rusty Anchor going under the Livingston Ave Train Bridge.

Posted by Rensselaer City Police Dept on Friday, January 25, 2019
Tugs have since removed the Captain JP from underneath the bridge and towed her back upriver.