Chantiers de l'Atlantique Cuts Steel for its "First" Cruise Ship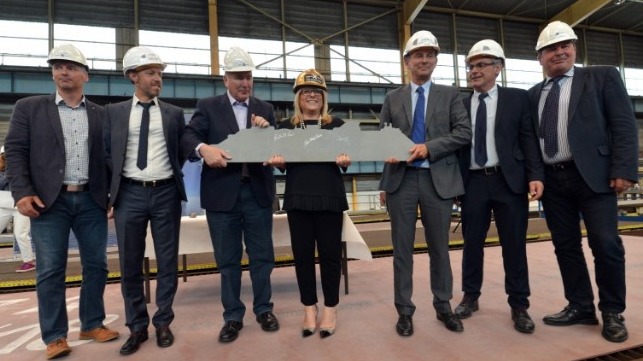 Chantiers de l'Atlantique, the yard formerly known as STX France, has cut first steel for the future Celebrity Apex, the second Edge-class vessel for Celebrity Cruises.
"[Celebrity] is known for many industry firsts so it's fitting that Celebrity Apex is the first to participate in a steel cutting ceremony under our new name Chantiers de l'Atlantique, another milestone of the great partnership we have built together," said Laurent Castaing, the general manager for Chantiers de l'Atlantique.
The vessel is due for delivery in the spring of 2020, and the remaining two ships in the series will arrive in 2021 and 2022.
In February, Italian shipbuilder Fincantieri reached an agreement with the government of France to purchase 50 percent of STX France, the strategic naval shipyard at Saint-Nazaire. The facility was once known as Chantiers de l'Atlantique, but it lost that name in a series of acquisitions beginning in 2006, and the French government promised that it would be restored as part of the agreement. At present, the French state holds the majority of Chantiers de l'Atlantique's shares, but it plans to transfer a 50 percent stake to Fincantieri once arrangements are finalized.
In addition to its lengthly cruise ship orderbook, the historic yard is an important defense shipbuilder. It is the only facility in France that is large enough to build aircraft carriers, and French officials were reluctant to permit an Italian entity to hold a majority stake. In the final arrangement, Fincantieri agreed to take 50 percent, then borrow an additional one percent from the French state. It has the right to appoint four board members, alongside two appointed by France, one by French state-owned defense conglomerate DCNS (now Naval Group) and one by the yard's employees.