After Software Disruption, Felixstowe Works to Restore Service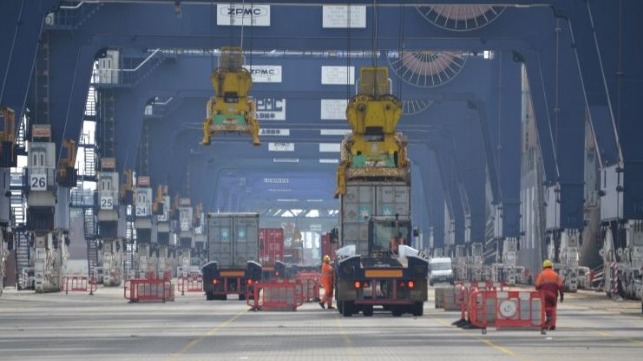 The Port of Felixstowe, UK reports that its operations are recovering from the disruption caused by a troubled terminal-management software rollout last month.
Hutchison Ports deployed its new nGen terminal operating system (TOS) at Felixstowe in June, and by early July it was reporting a drop in rail volumes from "teething issues." By mid-July, it was experiencing significant declines in terminal productivity. The challenges at the terminal included "inaccurate data about the position of some containers in the yard," "rail misses," yard stacking arrangements that resulted in "unproductive [box] moves," and below-target vessel and rail loading performance. These problems were serious enough that Maersk Line chose to reroute two of its Felixstowe services to Liverpool for 12 weeks, resulting in additional drayage miles for shippers.
According to the port's latest update, a series of adjustments have now brought productivity back up to 80 percent of the level seen before the switch to nGen. The port operator opened a new empty-container storage area to provide for an extra 4,000 TEU of space, allowing faster loading of empties aboard vessels before departure. It also altered the way that the system ordered stacking in the container yard, resulting in fewer "shuffles" to reach containers towards the bottom of each stack.
"We continue to pursue a number of important initiatives and are confident that they will deliver further shipside and landside productivity improvements, but the most recent changes have lifted shipside productivity rates by eight percent in the last week," Hutchison Ports said in a statement.
nGen is Hutchison's own proprietary terminal-management software suite, and the market-leading firm says that the package can control and optimize all aspects of port operation. This scope includes ship and yard planning, gate operations, vessel operations, yard configuration, equipment utilization and cost optimization. nGen currently manages over half of Hutchison's global volume.