Adani Inaugurates India's Vizhinjam Deepwater Container Terminal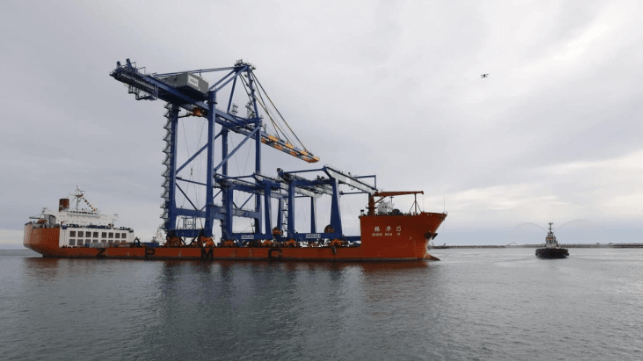 On Sunday, the heavy lift ship Zhen Hua 15 docked at India's new Vizhinjam Port from China, laden with gigantic cargo handling cranes for the facility. The vessel's maiden visit was celebrated across India as it marked the inauguration of Vizhinjam Port.
"A significant milestone has been completed as the heavy load cargo ship docked at Vizhinjam Seaport. Boasting container transshipment capabilities and proximity to major shipping routes, it's a game-changer for Kerala's infrastructure and development," said Pinarayi Vijayan, Chief Minister of Kerala, as he welcomed the vessel on Sunday
As India's first deep-water port, Vizhinjam is set to position India as a top global transshipment hub. Although the port's construction was officially commissioned in 2016, the idea for the project was first mooted in the early 1990s.
The $925 million Vizhinjam Port is located in the southern tip of India in the State of Kerala. It is being developed under a public-private partnership, with the local state government providing funding together with the private partner Adani Ports and Logistics.
Despite being an economic power, poor ports infrastructure has been a major setback for India's development ambitions. Of the fourteen major ports serving the country, most of them lack the necessary draft needed to accommodate mega-ships. This has been a disadvantage to India's liner connectivity, as the large container vessels have been forced to skip the country for other attractive ports in Asia such as Singapore, Dubai and Colombo.
This is about to change with Vizhinjam boasting a natural channel that is as much as 24 meters (79 feet) deep. In addition, the port will have a capacity of one million teu in its first phase, and an additional 6.2 million teu to be added in the following phases, according to developer Adani Ports.
In its recent Maritime Transport Report 2023, UNCTAD predicted that India will record one of the highest economic and trade growth rates in the world this year. As a result, India is now playing a significant role in the growth of Intra-Asian container shipping, which is one of the largest intraregional segments. These developments mean India needs massive investments in the expansion of its container shipping terminals.