"It's Complicated"
Coatings manufacturers deliver the goods in a highly competitive and constantly evolving market.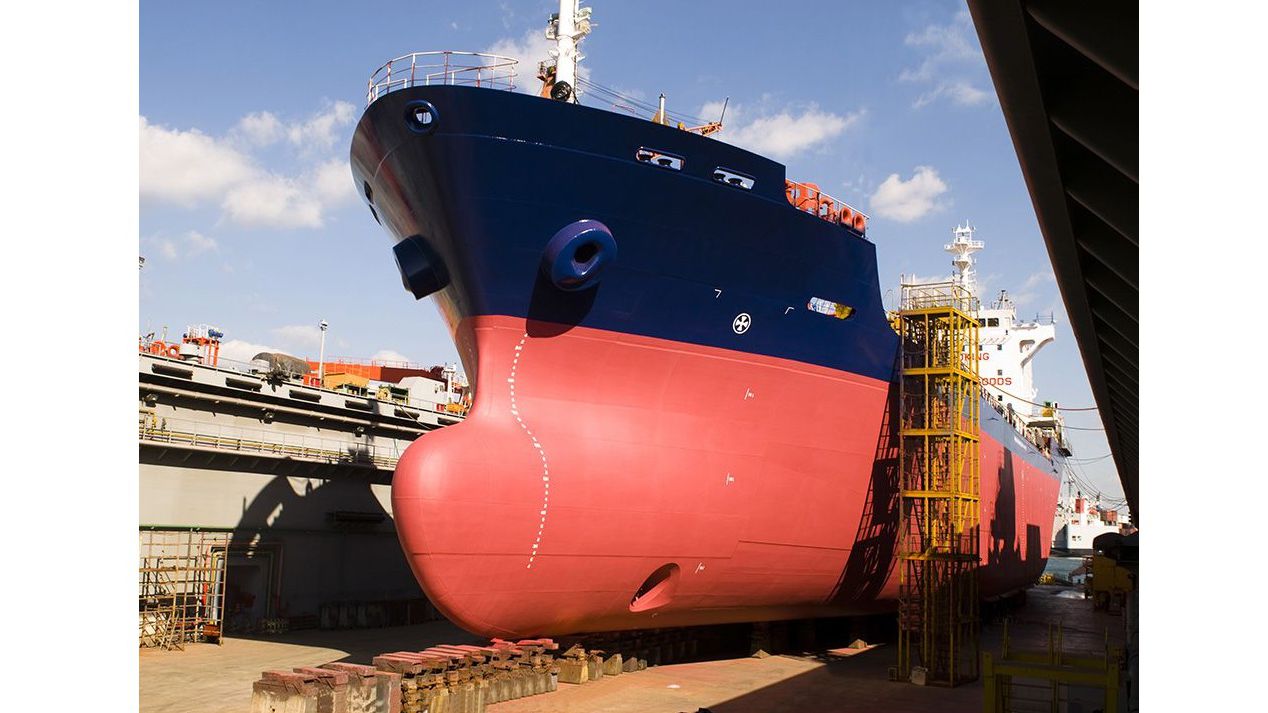 (Article originally published in Mar/Apr 2017 edition.)
There's more to marine coatings than covering everything with the swoop of a wide brush or sprayer. The title of a 2009 American movie best describes the industry: "It's Complicated." It's an industry intertwined with an ever-changing environment both above and below the water. Biofouling, fuel efficiency, government regulations, science and technology are just a few of the many considerations that confront an industry charged with developing products to withstand the harshest conditions, provide maximum efficiency and ensure longevity.
According to a report by Global Market Insight Inc., the marine coatings industry will be worth an estimated $15 billion by the end of 2024. Future growth will be driven largely by Asia Pacific new- buildings, led by China, with significant business coming from dry- dockings, the regular repair and maintenance of vessels, and the oil and gas industry. It's an industry faced with challenges and demands.
A SINGLE STANDARD
"Developing products for global distribution while navigating through the various environmental rules, regulations and restrictions of nearly 200 countries is very demanding," says Mike Vollman, Director of Sales, Marine Coatings, for Sherwin Williams. "Our product managers and chemists do a fantastic job of prioritizing which of the challenges we take on."
Michael Hindmarsh, Business Development Manager for AkzoNobel's marine coatings business, adds that a key challenge for the coatings' industry was a lack of a single standard for measuring coating performance so that owners could make informed choices and compare manufacturers' performance claims. However, that changed in late 2016 when the International Standards Organization (ISO) published ISO 19030, which defines the default method for measuring changes in hull and propeller performance and calculating a set of basic performance indicators. It also provides guidance on the expected accuracy of each performance indicator.
Hindmarsh says AkzoNobel played an influential role in the development of ISO 19030, which can be applied to measure the performance of all AkzoNobel's coatings: "ISO 19030 has the potential to play a decisive role in strengthening relationships between shipowners and providers of energy-saving solutions such as hull coating and propeller manufacturers. This will, in turn, enable the industry to work towards the adoption of the most sustainable and efficient technologies."
Developing antifouling coatings that perform the job they were designed for is the ultimate goal of Jotun Marine Coatings, says Dr. Erik Risberg, Global Marketing Director. But "the diversity of the marine fouling environment, consisting of more than 4,000 species globally, remains the biggest challenge to overcome and requires a more customized approach to individual vessels and their specific trades," he adds.
CUSTOMIZED SOLUTIONS
Building customized products requires expensive research and development – and in some cases includes getting the proper information to the market. Take, for instance, ceramic coatings, a category that had a lot of early skeptics. But over time views changed, and it wasn't simply a change in the technology that boosted its support.
"Changing people's practices and finding people interested in fixing problems has been the bigger challenge," explains Richard Stratton, whose company, Advanced Coating Solutions, makes a ceramic coating insulation (ACS CIC 4.0 Insulation Coating). "My opinion is we've sold it based on proving performance and by not lying about or over-amplifying its capabilities. Our experience is that it's used on surfaces or equipment that could not be insulated before. For marine use that means being able to reference applications on other ships that port engineers can verify." In other words, the best recommendation is word of mouth.
"Our marine guide is based on hearing back from operators on how various configurations worked for them in different parts of the world – the Arab Gulf, Bering Sea, Gulf of Alaska," Stratton adds. "What's also required is a better understanding of how insulation actually works and how to use it effectively. There's a place for mass-based materials and radiant barrier CIC. The key is using them effectively so you get the biggest bang for the buck. Our customers are doing this. Now it's mainly a communications exercise to teach everyone else."
And no manufacturer escapes buyer demands.
ITW Engineered Polymers sells to commercial customers and also to the U.S. Navy, which has its own set of rules. "Military performance requirements are very specific and tend to be more stringent than commercial coatings," says Bob Sciblo, Business Manager, Marine. "There's a significant amount of testing required depending on the type of system being approved." ITW is a prime supplier of a high-performance shaft coating system designed for use on naval vessels that has a 15-year lifespan before requiring renewal.
In addition to being demanding, shipowners keep constant watch on their bottom line – and rightly so.
"In a very competitive business with an overcapacity of tonnage, shipowners strive to increase their operational efficiency," stresses Jotun's Risberg. "Since fuel oil is a big part of their operational expenses, optimal antifouling systems tailored for the specific trade of the vessel become increasingly important. With limited maintenance budgets, it's important that we offer solutions to increase service intervals and extend the lifetime of the coating systems."
ITW's Bob Sciblo adds that any shipowner making a large capital investment "is always looking for the best performance at the most efficient cost." But that doesn't necessarily mean the lowest price. "Cost per year of a coating system, that's what counts," he says.
"If lifespan or performance are superior, then maintenance costs can be lower, improving overall value."
Sherwin Williams' Vollman believes shipowners are justified in demanding greater performance from coating products: "I don't think anyone is immune from the pressure to not only do more but do it faster and more economically. As coatings sup- pliers, we are tasked with bringing products to market that will extend service life, reduce downtime, lower surface preparation requirements and the number of coats needed, and have a faster return to service."
NEW DIRECTIONS
So what course has the industry charted for itself in the coming years?
AkzoNobel's Hindmarsh says his company is taking an interesting look at its future role: "We are looking at how new technologies can make life at sea safer." The company is partnering with the Barrier Group, a major tanker operator, and DroneOps on drone technology to virtually inspect coatings on the interior of enclosed spaces, such as ballast tanks. Traditionally, such work can be dangerous as it requires working at height, entering confined spaces and negotiating slippery services that could be poorly lit – all high-risk activities.
Code-named RECOMMS (Remote Evaluation of Coatings and Corrosion on Offshore Marine Structures and Ships), the project will be launched in October and use virtual reality technology and the semi-autonomous operation of drones to deliver safer, more accurate evaluations of ballast water tanks as well as other enclosed or difficult-to-access spaces on vessels and offshore structures.
With corrosion a cost-driver, especially in the marine environment, ITW's Sciblo believes the future of the industry will continue to focus on cost-effective systems that reduce environmental impact and require minimal maintenance: "Nanotechnology is showing itself to be a new direction for improving water chemical impermeability and impact resistance. New synthetic polymers are allowing the development of improved coatings with green technologies lessening negative environmental impact. New applications must also be user-friendly since it's important that a coating not be so sophisticated that it becomes difficult to apply."
COST PRESSURES
But despite the industry's desire to develop cost-effective coatings going forward, keeping production costs in check will be difficult. Jotun pointed out in a recent press release that over the past 12 months the cost of raw materials used in the manufacture of marine coatings – like polyester resins – has risen significantly. Raw materials like epoxy, titanium dioxide and copper have increased by more than 20 percent over the past year, and zinc prices by more than 50 percent.
Positive economic growth in China, the U.S., Japan and the E.U. have led to higher demand for raw materials at the same time that the supply side faced challenges, driving marine coatings' costs significantly upward. Geir Bøe, Jotun's Group Executive Vice President for Performance Coatings, says the company saw the trend of increasing costs and tried to avoid a situation where these increases impacted product prices.
"But when the cost of key components continues to increase significantly over time," Bøe notes, "it leaves us with no other option but to raise the prices on our affected products. We have tried to postpone price adjustments and we are working closely with our suppliers in an effort to reduce the effect for our customers. However, at this moment we don't see how we can absorb the cost increase anymore. We do believe that our customers will understand the situation."
There are some costs the industry can't hide with the swoop of a brush. -MarEx
The opinions expressed herein are the author's and not necessarily those of The Maritime Executive.