Connecting the Dots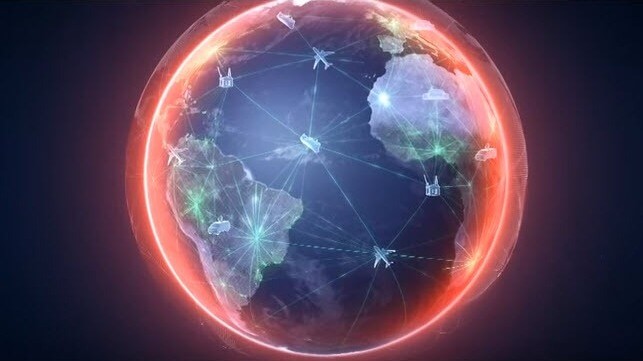 (Article originally published in Nov/Dec 2021 edition.)
The maritime industry is becoming a lot more exciting. The convergence of satellite communications networks, internet-of-things (IOT) sensors and data analytics is paving the way for digital transformation. In tandem with a growing ecosystem of application providers, vessel owners and operators are harnessing efficiencies, reducing emissions and cutting costs to make the "connected ship" a reality.
Capabilities such as digital twins, or virtual replicas of physical assets used for lifecycle simulations, are enabling smart fleets through real-time analytics. Such capabilities allow for self-reporting by intelligent equipment and other sensor-enabled items to ensure uptime, boost the efficiency of onboard systems and enhance overall vessel optimization.
To meet the IMO's Energy Efficiency Existing Ship Index standards, which enter into force in 2023, real-time monitoring of various vessel functions will require high-performance connectivity - good news for owners as Inmarsat's Industrial IoT Research Report (2018) expects IoT-connected ships will drive cost savings of 14 percent by 2023. In addition, such capabilities will have the added benefit of increasing crew welfare through improved communications, telemedicine and live-streaming training.
SatCom is now woven into our way of life and affects Global Positioning System (GPS) navigation, how we work, financial markets and everything in between. With the global satellite data services market currently exceeding $5 billion and projected to reach more than $19 billion by 2027, the increasingly congested and competitive domain is up for grabs.
Guardians of the final frontier
Speaking recently at the U.S. Naval Academy, General John W. Raymond, Chief of Space Operations, described the contested space environment as "key to our economic and national security." With China and Russia vying for dominance, the stakes literally couldn't be higher.
America's newest military branch, the U.S. Space Force (USSF), has answered the call to keep our global communication infrastruc­ ture safe. It now maintains the GPS constellation, helps deconflict more than 27,000 pieces of orbital debris and protects U.S. satellites that are attacked daily by lasers and radiofrequency jammers launched from Russia and China.
Lieutenant Colonel Gary Thompson, Chief of SATCOM Capability Integration, says, "USSF is integrating military and private sectors to enable warfighters to transition between their network terminals and alternate resources with little to no disruption. Our market research has shown that some existing commercial products are mature enough to satisfy portions of the architecture. However, additional development is required to address the Common Operational & Integrated Data Management Environment to ensure our ability to on-ramp capabilities which are enterprise-aligned."
Translation: Space Force is open for business and working with commercial enterprises to ensure the free world maintains its competitive edge.
Pioneer
Inmarsat has faced growing competition from rivals such as SpaceX/ Starlink, Richard Branson-backed OneWeb and JeffBezos's Project Kuiper. Then, last month, a $7.3 billion mega-merger occurred when California-based global internet service provider (ISP) Viasat purchased U.K.-based Inmarsat.
Originating in 1979 as a nonprofit, the International Maritime Satellite Organization (Inmarsat) was the original provider of maritime satellite connectivity. Despite being first to market, arrows of innovation still reside within its quiver.
For example, to enhance safety, operational performance, regulatory compliance and crew welfare, Inmarsat's Fleet Xpress just announced a 30-vessel fleetwide installation agreement with Maersk Supply Service (MSS). Combining Inmarsat's high-speed Global Xpress Ka-band and reliable L-band networks, Fleet Xpress and its suite of digital solutions, including Fleet Data and Fleet Connect, are making evolutionary leaps for the connected ship.
Eric Griffin, Vice President of Offshore Energy & Fishing, notes an 80 percent increase in spending on maritime digitalization over the past two years. At the same time, offshore supply vessels boosted their data consumption by 77 percent: "Between the drop in oil prices and Covid, operators need to become more efficient while meeting crew welfare needs. Key challenges for IT managers are to separate vessel and crew message traffic, control third-party access for asset monitoring and reduce cyber risks."
Griffin explains the benefits of lnmarsat's Fleet Connect: "Using separate and dedicated secure bandwidths allows remote installation, management and updating of onboard applications without interrupting business-critical vessel operations or crew communications. Working in tandem with Fleet Data, original equipment manufacturers' agnostic onboard sensors and applications upload information to a central cloud database through application process interfaces (APis) for predictive analytics and intelligent decision-making."
Pivotal to its growth is Inmarsat's network of certified application providers (CAPs) - think App Store. CAPs like Norway-based Yxney Maritime and Swedish SKF-Marine provide fleet condition-based maintenance strategies with real-time fuel consumption, emissions and engine efficiency data. Their solutions are helping Norway-based energy firm Equinor achieve its ambitious goal of net-zero emissions by 2050.
In 2023, Inmarsat will roll out its multidimensional, dynamic mesh ORCHESTRA network for seamless global coverage. High-performance, low-latency (faster data) connectivity will be possible through the integration of its ELERA (L-band), Global Xpress (Ka-band), geostationary and low-earth orbit satellites and terrestrial SG.
This type of seamless switching between networks is being demonstrated for deep ocean surveying aboard U.K.-based SEA-KIT International's uncrewed surface vessel (USV) Maxlimer. Co-funded by the European Space Agency, the project is currently performing technology trials with over-the-horizon controls. "We [Inmarsat] are a platform for vessels to transform how they perform at sea," says Griffin.
Onboard solutions
Jens Ewerling, Product Manager, VSAT, at Cobham SATCOM (formerly known as Thrane & Thrane A/S), discussed Cobham's efforts to help digitize the maritime fleet.
"Recognizing current issues, we've now moved final manufacturing and assembly to Asia to get closer to the supply chain," Ewerling explains. "Next, we know data aggregation helps clients develop dig­ ital twins. With continuous terrestrial connectivity, trucking fleets are live-monitored, giving operators the ability to share shipment locations with suppliers. Thanks to IoT-connected sensors and condition-based monitoring, operators know when it's time to change drive shafts. These same capabilities are attractive to maritime companies. SATCOM is central to maintaining continuous and reliable IoT connectivity."
He adds that "Our network of ten-thousand antenna systems are gateways that help us gain awareness and give real-time insights for remote support. In addition, this replaces legacy methods that required days or weeks of planning to send techs on board."
Cobham is launching SAILOR XTR, the next generation very small aperture (VSAT) antenna platform, to future-proof connectivity. The one-meter software-controlled Ku-band XTR antenna system is designed for IoT data protocols and new satellite constellations in LEO, medium-earth orbit (MEO), GEO and highly elliptical orbit (HEO) for polar coverage. XTR integrates with encrypted below-deck third-party cellular and Wi-Fi devices at speeds of 1 Gbps for networked IoT sensors and enhanced crew welfare.
"On average, companies only budget one percent of operating expenditures for SatCom," Ewerling says. "Given Covid's devastating effect on crew morale, owners and operators must shift paradigms to ensure credibility and entice crews back out to sea. Our systems now offer live-streaming primetime football - an unthinkable achievement in the past."
Shipping companies and ports are moving away from faxes and PDFs in favor of online applications. "With advances in SATCOM," adds Ewerling, "prices have halved in the past decade with clients getting more value for the same fee. As a fundamental element in digitization, the question for owners and operators is not if they should invest, but when."
New market entrant K4 Mobility has been developing connectivity or K4 Edge-as-a-Service since 2018 for managed service and fleet network control. The K4 Edge OneDome long-range antennae and below-deck OneBox are agnostic hardware and software solutions built to accommodate any satellite and LTE/4G/5G data provider.
Its native K4 app gives clients remote and local network monitoring, control and analytics of onboard IoT sensors ' the way down to the individual device or crewmember profile. Pre-loaded SIM cards and global plans seamlessly and select the optimal, cost-effective network. For those laying at anchor or intercoastal yachting, OneDome boasts LTE service up to 20 nautical miles off­ shore at speeds of 50 mbps, enough to Netflix and chill in HD.
Bo Feely, Director of Sales for Commercial Shipping, points out that "The industry is moving towards 'more control of data flow to the ship.' They want agnostic internet, fleet network monitoring and software service fees with edge devices (onboard and local network interfaces such as routers). They want one box with one bill."
"Union contract negotiations now push to include minimum data quota per crew member," he says. "Shipowners will want to place as much of that requirement on LTE/4G/5G versus satellite as possible."
Punch it, Chewie!
The world and its communication networks are moving at the speed oflight. SatCom and digital transformation are shepherding improved global operational efficiencies, industry-wide sustainability, safer shipping and more significant maritime conservation opportunities.
A call to action now exists for the maritime industry to respond, adapt and embrace. Those that fail may find their fate tied to the Dodo bird. My response: "Punch it, Chewie!''
Sean Holt is a frequent contributor to The Maritime Executive.
The opinions expressed herein are the author's and not necessarily those of The Maritime Executive.