A New Era in Polar Cruising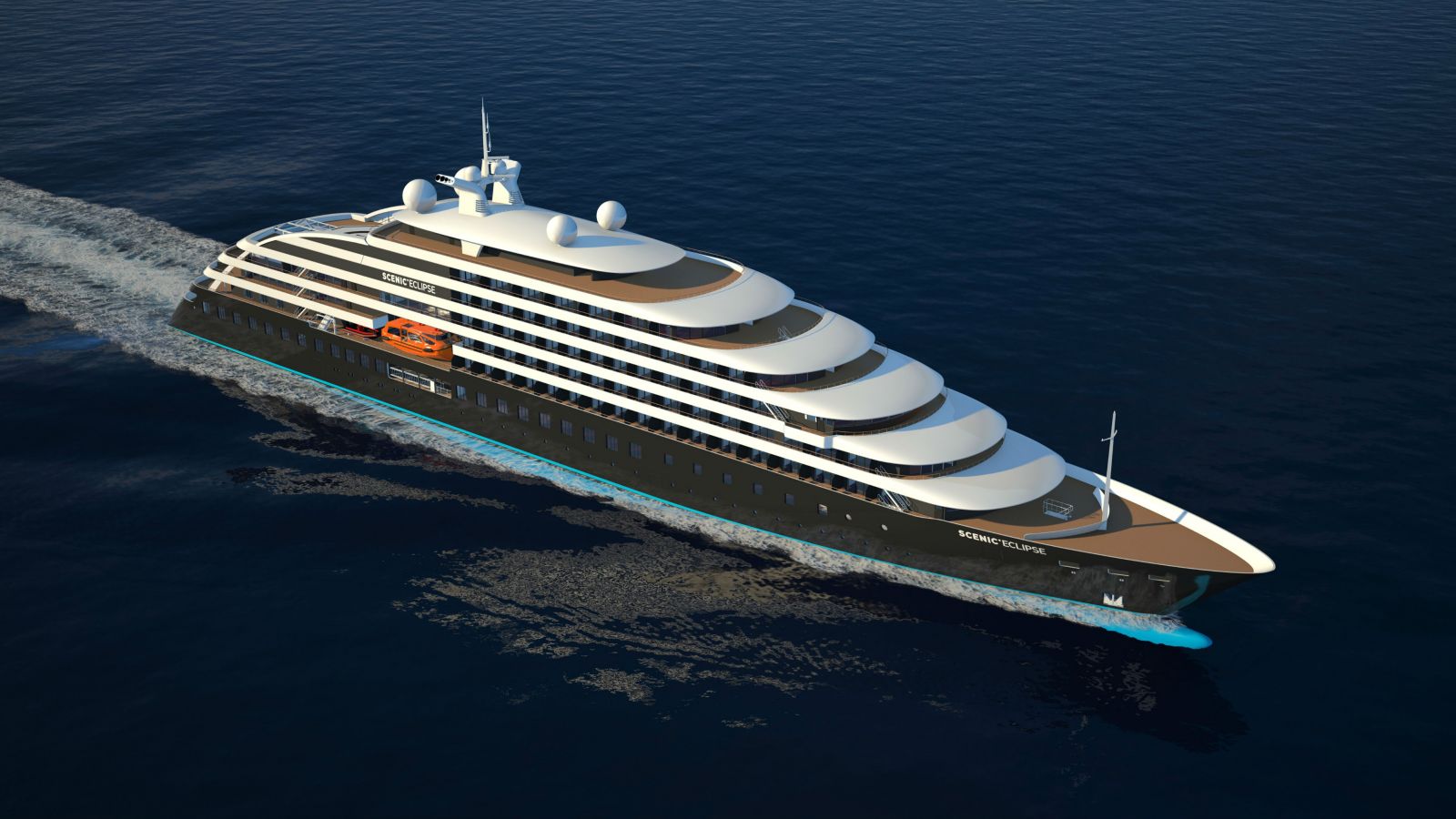 Australia's Scenic group has ordered one of the first cruise ships to be built to Polar Code standards, and the vessel signals change in the polar cruise industry, which until now has been characterised by smaller or older vessels.
Scenic's vessel, the Scenic Eclipse, built at Croatia's Uljanik shipyard for delivery in summer 2018, is purpose built for Antarctic cruising. The 165m (540-foot) vessel will have accommodation for 228 passengers and 172 crew.
It will be powered by two separate diesel-electric propulsion plants and two pods. The vessel will be granted the highest Bureau Veritas marks and notations, including a new Polar Class notation and several additional class notations related to pollution prevention such as advanced waste water treatment system, ballast water management system, waste holding capacity and Green Passport.
It's the start of a new era, says Jean-Jacques Juenet, business development manager for passenger vessels at Bureau Veritas. "Scenic is trying hard to set a new standard in quality for polar cruising with this new vessel built specifically for its itinerary."
The vessel will sail in polar waters during summer and early autumn only, and the Polar Code requires a comprehensive risk analysis to be undertaken to ensure that its design, operational procedures and crew will be prepared for any emergency, says Juenet.
The Code and class notations will require hull, shaft and propeller reinforcement to deal with operation in polar waters. There are also requirements regarding stability and the risk of snow and ice accretion on the ship. "Heating elements will be required, and lifesaving and fire-fighting systems must be able to work in the cold environment," he says.
The master and officers on watch will need ice navigation qualifications. A manual with procedures for risk management and contacting emergency responders will add to safety at sea.
While SOLAS itself has been modified after the Costa Concordia accident, these changes are not as significant as the Polar Code requirements, Juenet says. The Costa Concordia accident was the result of an unfortunate mistake and it did not highlight a lot of gaps in SOLAS.
The main SOLAS change made so far is to ensure that evacuation training for passengers is carried out before the vessel leaves port, rather than within 24 hours of leaving, as it was prior to the Costa Concordia accident. "There will be some further changes related to vessel stability, but these adjustments to current regulation will not come into force before 2020 and for new ships only" says Juenet.
"There is nothing revolutionary in these changes or in the Polar Code," he says. "It's just good logic, but now with the Polar Code, we have a tool to verify that all the necessary steps to minimize safety risks and danger to the environmental have been taken."
The Polar Code
While some of the Polar Code's requirements are proscriptive, the majority are goal-based. The Code lists hazards that represent a minimum that should be considered in addition to those encountered by SOLAS ships in non-polar waters. These include:
• Ice, as it may affect hull structure, stability, machinery systems, navigation, the outdoor working environment, maintenance and emergency preparedness tasks and the function of safety equipment and systems;
• Low temperature, as it affects the working environment and human performance, maintenance and emergency preparedness tasks, material properties and equipment efficiency, survival time and performance of safety equipment and systems;
• Extended periods of darkness or daylight as it may affect navigation and human performance;
• High latitude, as it affects navigation systems, communication systems and the quality of ice imagery information;
• Remoteness and possible lack of accurate and complete hydrographic data and information, reduced availability of navigational aids and seamarks with increased potential for groundings compounded by remoteness, limited readily deployable SAR facilities, delays in emergency response and limited communications capability, with the potential to affect incident response;
• Potential lack of ship crew experience in polar operations, with potential for human error;
• Potential lack of suitable emergency response equipment, with the potential for limiting the effectiveness of mitigation measures;
• Rapidly changing and severe weather conditions, with the potential for escalation of incidents; and
• The environment with respect to sensitivity to harmful substances and other environmental impacts and its need for longer restoration.
The Polar Code covers the full range of design, construction, equipment, operational, training, search and rescue and environmental protection matters relevant to ships operating in the inhospitable waters surrounding the two poles.

It includes mandatory measures covering safety part (part I-A) and pollution prevention (part II-A) and recommendatory provisions for both (parts I-B and II-B).

The Code will require ships intending to operate in the defined waters of the Antarctic and Arctic to apply for a Polar Ship Certificate. The issuance of a certificate will require an assessment, taking into account the anticipated range of operating conditions and hazards the ship may encounter in the polar waters. The assessment would include information on identified operational limitations and plans or procedures or additional safety equipment necessary to mitigate incidents with potential safety or environmental consequences.

Ships will need to carry a Polar Water Operational Manual to provide the owner, operator, master and crew with sufficient information regarding the ship's operational capabilities and limitations in order to support their decision-making.
The Polar Code text is available here.
The opinions expressed herein are the author's and not necessarily those of The Maritime Executive.