USS Gerald R. Ford Returns from Builder's Trials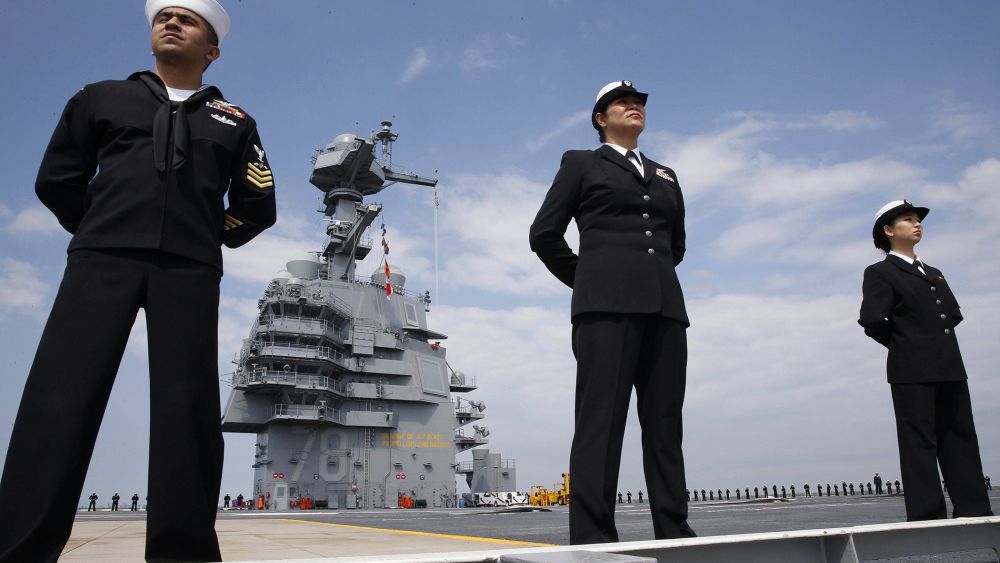 [By Rear Adm. Bruce H. Lindsey, Commander, Naval Air Force Atlantic]
Future USS Gerald R. Ford (CVN 78) completed builder's trials and arrived in her homeport, Naval Station Norfolk for the first time on April 14. The ship was able to complete all major builder's trial evolutions, including high power runs and steering evolutions. Additionally, she conducted all ahead flank turns and I am told that "she turns nice!" First reports indicate overall the ship performed well.
The aircraft carrier Pre-Commissioning Unit (PCU) Gerald R. Ford (CVN 78) pulls into Naval Station Norfolk for the first time.
As with any new class of ship, the builders trials allowed the engineers to actually observe how the new design operates in the envisioned environment and they learned a lot. But more importantly, the crew of the Gerald R. Ford operated the ship under numerous configurations, gaining valuable hands-on experience that only underway operations enable; everything from putting the rigid-hull inflatable boat into the water to simulate a rescue-at-sea to operating anti-submarine warfare equipment and tracking airborne aircraft. Even the sea and anchor detail that took the ship out and back into port was a valuable operational experience for the captain and the crew.
Most Americans can agree that the threats to our country and our way of life are more complex than ever before. It is for this reason that we must continue to have not only a strong Navy but more importantly, we must have a strong striking capability in that Navy for deterrence and should deterrence fail, to fight and win our nation's wars. That powerful striking capability resides predominately in our large deck nuclear-powered aircraft carriers with their embarked air wings consisting of F/A-18 E/F Super Hornets, EA-18G Growlers, E-2D Hawkeyes, MH-60R Sea Hawks, MH-60S Knight Hawks and the C-2 Greyhound.
Some critics ask why, in the current budget environment, are we investing in the Ford class carrier. The answer is simple – because the intrinsic, inherent and enduring value of the aircraft carrier as the striking arm of national power remains unmatched today and well into the foreseeable future. This is why we have large deck nuclear-powered aircraft carriers, the best aircraft and the best Sailors to man these large deck ships – so that we can deliver combat striking power and sea control anywhere, and at any time of the President's choosing. That capability is resident only in United States large deck nuclear-powered aircraft carriers and their embarked air wings – it is what gives diplomacy its gravitas.
The future USS Gerald R. Ford (CVN 78) arrives at Naval Station Norfolk after returning from Builder's Sea Trials and seven days underway.
Gerald R. Ford returned successfully from builders trials and she is a spectacular fighting machine. Among her many advancements, the new launch and recover equipment designed into Gerald R. Ford will allow the carrier to operate with future aviation platforms that are either lighter or heavier than those found in today's air wing. She, along with her future air wing, will provide any President and Secretary of Defense all the gravitas required to reach lasting and peaceful accords for the next 50 years.
This article appears courtesy of Navy Live and may be found in its original form here.
The opinions expressed herein are the author's and not necessarily those of The Maritime Executive.