One Marine's Story Becomes A Ship's Legacy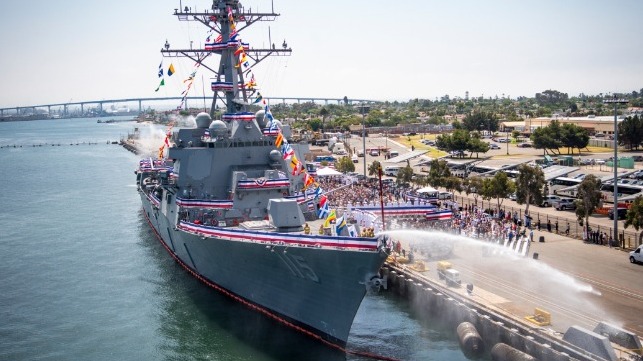 Hispanic Heritage Month is celebrated September 15 to October 15, and it provides us the opportunity to recognize the achievements of the heroic individuals of Hispanic descent who overcame adversity in their careers and, through their actions, reflect great credit upon the Naval service. A great example is Marine Corps Sgt. Rafael Peralta, for whom the destroyer USS Rafael Peralta is named.
Peralta was born in Mexico City, Mexico, and immigrated to the United States as an adolescent. Following graduation from high school in 1997, he attended San Diego City College. Peralta wanted to become a U.S. Marine, but was unable to enlist until he received his green card. Instead, he served in the California Conservation Corps while attending San Diego City College.
Upon becoming a permanent resident of the United States in 2000, he immediately joined the Marine Corps and attended bootcamp at the Marine Corps Recruit Depot in San Diego. While serving as a Marine, he earned U.S. citizenship.
During a combat tour supporting Operation Al Fajr in the city of Fallujah, Iraq, he was shot and mortally wounded. As his squad fired at the insurgents around him, an enemy grenade was thrown into their midst; it came to rest near Peralta's head.
The official citation for the Navy Cross award read:
"Without hesitation and with complete disregard for his own personal safety, SGT Peralta reached out and pulled the grenade to his body, absorbing the brunt of the blast and shielding fellow Marines only feet away. SGT Peralta succumbed to his wounds. By his undaunted courage, intrepid fighting spirit, and unwavering devotion to duty, SGT Peralta reflected great credit upon himself and upheld the highest traditions of the Marine Corps and the United States Naval Service."
In addition to the Navy Cross, Peralta was posthumously awarded the Purple Heart and the Combat Action Ribbon for his actions.
Then-Secretary of the Navy Ray Mabus presents the Navy Cross to Rosa Peralta, the mother of the late Sgt. Rafael Peralta, aboard Camp Pendleton, Calif., June 8, 2015.
Peralta is remembered as a "Marine's Marine." His bedroom walls were decorated with his boot camp graduation certificate, the Bill of Rights, and the Constitution. The night before he died, Peralta wrote a letter to his younger brother, saying "Be proud of me, bro…and be proud of being an American." He served with enthusiasm and patriotism, and his legend continues to inspire Sailors and Marines to this day.
On July 29, 2017, the U.S. Navy commissioned USS Rafael Peralta, an Arleigh Burke-class guided missile destroyer. At the ceremony, Commandant of the Marine Corps, General Robert Neller honored Peralta's memory.
"This [commissioning] marks the commemoration of a life and the immortality of a hero. Sgt. Peralta's legacy will forever be part of this ship. All he ever wanted to be as an American, to serve his country," said Neller.
Peralta's legacy – as a young man who immigrated to the United States as a teenager, and then enlisted to serve his adopted country on the day he got his green card – epitomizes the journey of many of the Hispanic members of our Armed Forces.
Honoring their Hispanic heritage, during the commissioning ceremony Peralta's mother gave the ship's crew the order to "man our ship and bring her to life" first in Spanish, and then in English. The ship's motto, FORTIS AD FINEM, which translates to "courageous to the end," stands as a testament to Peralta's dedication to his country and his fellow Marines. Peralta's Navy Cross was donated by his mother and resides aboard the ship.
Since commissioning, the Rafael Peralta has participated in numerous sea trials, combat systems and engineering testing, and will ultimately deploy with a Carrier Strike Group. She is currently assigned to Destroyer Squadron 1 and is homeported in San Diego, where she will uphold and honor the legacy of Sgt. Rafael Peralta.
The opinions expressed herein are the author's and not necessarily those of The Maritime Executive.