Coast Guard Sees Resurgence of Semi-Sub Smuggling Boats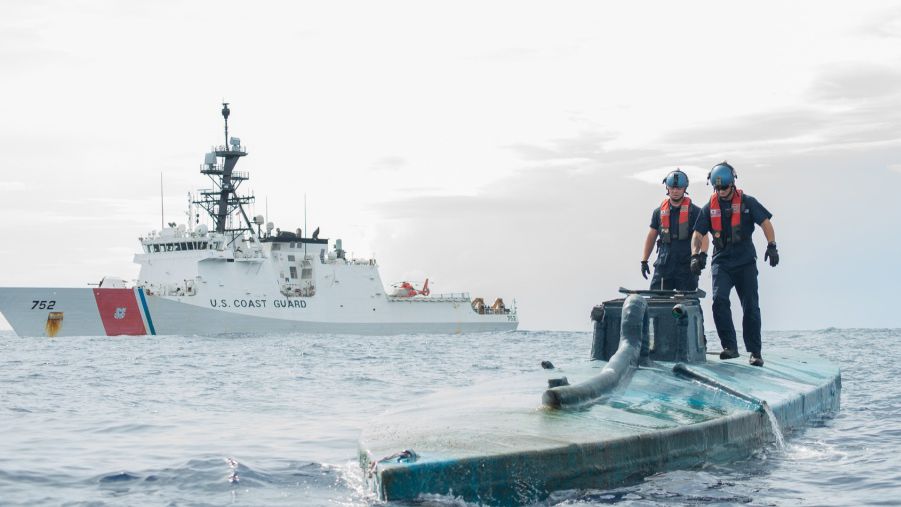 The Coast Guard has interdicted seven low-profile drug smuggling vessels in four months, resulting in the seizure of more than 11 tons of cocaine – an amount with a street value of more than $300 million.
Low-profile vessels are designed for smuggling illicit cargo such as drugs, weapons and cash. These smuggling vessels ride low in the water to reduce their radar signature, have multiple outboard motors to allow them to travel at high speeds and are painted to blend with the water to avoid detection from military and law enforcement authorities.
"Every successful interagency interdiction, investigation and prosecution is a counter-attack against the criminal networks who flood our borders with drugs every day," said Vice Adm. Fred Midgette, commander, Coast Guard Pacific Area. "The information gleaned from these Coast Guard interdictions provides insight into the pathways of illicit trafficking and contribute to the arrest and extradition of high-level drug cartel kingpins and follow on interdictions."
A low-profile vessel is capable of carrying large quantities of illicit cargo in its elongated bow. Coast Guardsmen from the Coast Guard Cutter Steadfast from Astoria, Oregon, interdicted a suspected low-profile drug smuggling vessel in driving rain several hundred miles off the Central American coast Aug. 14, 2017. The Coast Guardsmen seized over 6,000 pounds of cocaine from the vessel and apprehended four suspected smugglers.
"Illicit drug networks are dangerous breeding grounds for all types of illegal trafficking. The immense profits generated by these activities fuel violence and instability throughout the entire region," said Rear Admiral Todd Sokalzuk, commander, Coast Guard District 11. "These interagency interdictions, along with the valiant efforts of many nations in Central and South America, are critical to keeping pressure on these networks and developing the information and means to ultimately dismantle them."
All low-profile vessel interdictions by Coast Guard forces have occurred in known drug transit zones in the Pacific Ocean off the coast of Central and South America. The cutters Waesche, Northland, Dependable, Steadfast, Tampa, and James contributed to the interdictions.
An increased presence of U.S. and allied forces in the Eastern Pacific Ocean coupled with increased coca production in South America has led to a significant increase in narcotics removal in the drug transit zones off South and Central America. Last fiscal year, the Coast Guard set the U.S. record for most drugs ever seized after stopping more than 440,000 pounds of cocaine from reaching the U.S. – an amount worth $5.9 billion. The Coast Guard is on track for another historic fiscal year in 2017.
The opinions expressed herein are the author's and not necessarily those of The Maritime Executive.