China and the Undermining of Global Rules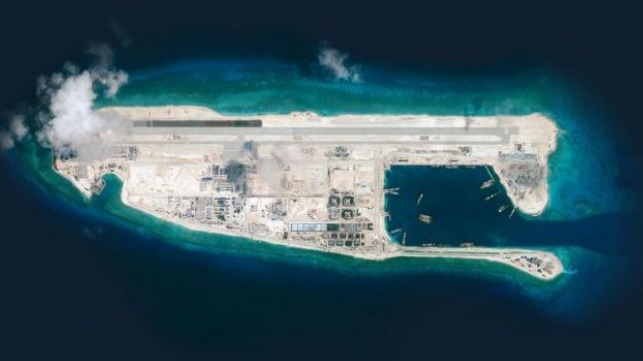 [By Tuan N. Pham]
More Chinese assertiveness and unilateralism are coming. Recently, worrying developments have emerged that oblige the United States to further challenge China to become a more responsible global stakeholder that contributes positively to the international system. Otherwise, passivity and acquiescence undermine the new U.S. National Security Strategy; reinforce Beijing's growing belief that Washington is a declining power; and may further embolden China – a self-perceived rising power – to execute unchallenged and unhindered its strategic roadmap (grand strategy) for national rejuvenation (the Chinese Dream).
Near-Arctic State
On January 26, Beijing followed up last year's policy paper "Vision for Maritime Cooperation Under the BRI" that outlined its ambitious plan to advance its developing global sea corridors (blue economic passages connected to the greater Belt and Road network) – with its first white paper on the Arctic. The white paper boldly proclaimed China's strategic intent to actively partake in Arctic activities as a "near-Arctic state." Activities include but are not limited to the development of Arctic shipping routes (Polar Silk Road); exploration for and exploitation of oil, gas, mineral, and other material resources; utilization and conservation of fisheries; and promotion of Arctic tourism.
Beijing rationalizes and justifies this expansive political, economic, and legal stance as "the natural conditions of the Arctic and their changes have a direct impact on China's climate system and ecological environment, and, in turn, on its economic interests in agriculture, forestry, fishery, marine industry, and other sectors." In other words, China stakes its tenuous Arctic claims on geographic proximity; effects of climate change on the country; expanding cross-regional diplomacy with extant Arctic states; and the broad legal position that although non-Arctic countries are not in a position to claim "territorial sovereignty", they do have the right to engage in scientific research, navigation, and economic activities. And while vaguely underscoring that it will respect and comply with international law like the United Nations Convention on the Law of the Sea (UNCLOS) in a "lawful and rational matter", Beijing was quite explicit and emphatic in the white paper that it will use Arctic resources to "pursue its own national interests."
There is no legal or international definition of "near-Arctic state." China is the sole originator of the term. Beijing is clearly attempting to inject itself into the substance of Arctic dialogue and convince others to accept the self-aggrandizing and self-serving term. Furthermore, as noted by Grant Newsham, the phrase itself is a representative exemplification of how China incrementally and quietly builds concepts, principles, vocabulary, and finally justification for pursuing its national interests and global ambitions. Consider the following evolution that is typical of how key elements of China's strategic lexicon come to the fore like "near-Artic state and the South China Sea (SCS) has been part of China since ancient times":
Step 1 – Term appears in an obscure Chinese academic journal
Step 2 – Term appears in a regional Chinese newspaper
Step 3 – Term is used at a Chinese national conference or seminar
Step 4 – Term is used in Chinese authoritative media
Step 5 – Term is used at international conferences and academic exchanges held in China
Step 6 – China frequently refers to the term in foreign media and at international conferences
Step 7 – China issues a policy white paper stating its positions, implied rights, and an implied threat to defend those rights
Step 8 – China maintains that this has always been Beijing's policy
Beijing's official policy positions on Antarctica are less clear and coherent, and appear to be still evolving. The closest sort of policy statement was made last year by China's State Oceanic Administration when it issued a report (pseudo white paper) entitled "China's Antarctic Activities (Antarctic Business in China)." The report detailed many of Beijing's scientific activities in the southernmost continent, and vaguely outlined China's Antarctic strategy and agenda with few specifics. All in all, Beijing doesn't have a formal claim over Antarctic territory (and the Antarctic Treaty forbids any new claims), but nonetheless, China has incrementally expanded its presence and operations over the years. The Chinese government currently spends more than any other Antarctic state on new infrastructure such as bases, planes, and icebreakers. The expanding presence in Antarctica is embraced by Beijing as a way and means to build the necessary physical fundamentals for China's Antarctic resource and governance rights.
South "China" Sea
On February 5, released imagery of the Spratly archipelago suggests that China has almost completely transformed their seven occupied reefs – disputed by the other claimants – into substantial Chinese military outposts, in a bid to dominate the contested waters and despite a 2002 agreement with the Association of Southeast Asian Nations (ASEAN) not to change any geographic features in the SCS. At the same time, Beijing has softened the provocative edges of its aggressive militarization with generous pledges of investments to the other claimants and promising talks of an ASEAN framework for negotiating a code of conduct (CoC) for the management of contested claims in the strategic waterway. However, it is becoming increasingly apparent that China is determined to finish its militarization and then present the other claimants with a fait d'accompli before sitting down to negotiate the CoC.
The photographs show that Beijing has developed 72 acres in the SCS in 2017 and over 3200 acres in the past four years; and redirected its efforts from dredging and reclaiming land to building infrastructure (airstrips, helipads, radar and communications facilities, control towers, hangars, etc.) necessary for future deployment of aircraft to project Chinese power across the shipping routes through which trillions of dollars of global trade flows each year. On February 8, China's Ministry of Defense announced that it recently sent advanced Su-35 fighter aircraft to take part in a joint combat patrol over the SCS.
At the end of the day, these latest images will not change Beijing's agenda and plans for the SCS. They do however provide a revealing glimpse of what is happening now and what may happen in the near future on these disputed and contested geographic features (rocks and reefs) – and it sure does not look benign and benevolent as China claims.
At the 54th Munich Security Conference from February 16-18, the Chinese delegation participated in an open panel discussion on the SCS and took the opportunity to publicly refute the prevailing conventional interpretation of international maritime law. They troublingly stated for the first known time in an international forum that "the problem now is that some countries unilaterally and wrongly interpreted the freedom of navigation of UNCLOS as the freedom of military operations, which is not the principle set by the UNCLOS." This may be that long-anticipated policy outgrowth from the brazen militarization of the SCS and the latest regression of the previous legal and diplomatic position that "all countries have unimpeded access to navigation and flight activities in the SCS." Now that China has the supposed ways and means to secure the strategic lines of communication, Beijing may start incrementally restricting military ships and aircraft operating in its perceived backyard, and then slowly and quietly expand to commercial ships and aircraft transiting the strategic waterway. If so, this will be increasingly problematic as the People's Liberation Army Navy continues to operate in distant waters and in proximity to other nations' coastlines. China will then have no choice but to eventually address the legal and diplomatic inconsistency between policy and operations – and either pragmatically adjust its policy or continue to assert its untenable authority to regulate military activities in its claimed exclusive economic zones, in effect a policy of "do as I say, not do as I do."
In the public diplomacy domain, Beijing is advancing the narrative that Washington no longer dominates the SCS, is to blame for Chinese militarization of the SCS, and is destabilizing the SCS with more provocative moves. On January 22, the Global Times (subsidiary of the People's Liberation Army's Daily) published an op-ed article cautioning American policymakers to not be too confident about the U.S. role in the SCS nor too idealistic about how much ASEAN nations will support U.S. policy. Consider the following passage: "For ASEAN countries, it's much more important to avoid conflicts with Beijing than obtain small favors from Washington. Times are gone when the United States played a predominant role in the SCS. China has exercised restraint against U.S. provocations in the SCS, but there are limits. If the U.S. doesn't stop its provocations, China will militarize the islands sooner or later. Then Washington will be left with no countermeasure options and suffer complete humiliation." On February 25, the same state-owned media outlet wrote that "China should install more military facilities, such as radar, aircraft, and more coastguard vessels in the SCS to cope with provocative moves by the United States"; and predicted that the "Sino-U.S. relations will see more disputes this year which will not be limited to SCS, as the United States tries to deal with a rising China."
On January 17, USS Hopper (DDG-70) conducted a freedom of navigation operation (FONOP) during which it passed within 12nm of Scarborough Shoal. This was the fifth U.S. naval operation in the last six months to challenge China's excessive maritime claims in the SCS. The Chinese media largely portrayed the operation as the latest in a series of recent U.S. actions intended to signal a new policy shift consistent with the new muscular U.S. National Security Strategy and U.S. National Defense Strategy and reflective of growing U.S. misgivings over China's rise. The Chinese media is also increasingly depicting Beijing as having the upper hand in the SCS at the expense of rival Washington; and that U.S. FONOPs are now pointless since China has multiple options to effectively respond and there's very little the United States can do about it.
Conclusion
These troubling and destabilizing developments egregiously challenge the rules-based global order and U.S. global influence. Like China's illegal seizure of Scarborough Shoal in 2012 and Beijing's blatant disregard for the landmark ruling by the International Tribunal of the Permanent Court of Arbitration in 2016, they further erode the trust and confidence in the international rule of law (and norms) and undermine America's traditional role as the guarantor of the global economy and provider of regional security, stability, and leadership. If the international community and the United States do not push back now, Beijing may become even more emboldened and accelerate the pace of its deliberate march toward regional and global preeminence unchallenged and unhindered.
Tuan Pham has extensive experience in the Indo-Pacific, and is widely published in national security affairs and international relations. The views expressed therein are his own and do not reflect the official policy or position of the U.S. Government.
This essay appears courtesy of CIMSEC and has been abbreviated to focus on maritime affairs. It may be found in its full, original form here.
The opinions expressed herein are the author's and not necessarily those of The Maritime Executive.