WE Tech Provides Solutions for First LNG Handysize Bulk Carrier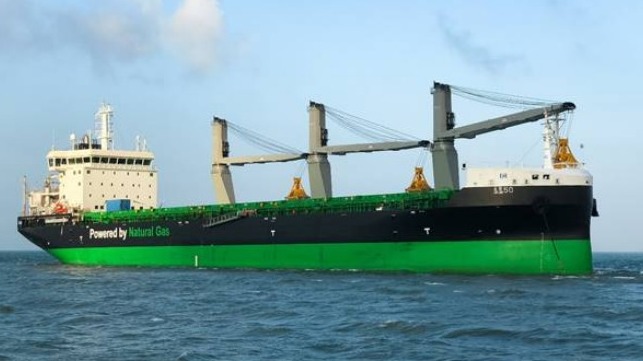 On August 20, 2018, the first LNG dual-fueled handysize bulk carrier in the world –M/V Haaga was delivered to her Finnish shipowner ESL Shipping from Jinling Shipyard in Nanjing, China. The Finnish hybrid solutions company WE Tech provided its innovative solutions for M/V Haaga to reduce her environmental footprint by minimizing its energy consumption and emissions. The energy efficiency solutions, including Economical Operations and Boost Mode with the direct drive permanent magnet shaft generator, represent the latest in technology and innovation.
The Economical Operations, also known as Power Take Out (PTO) mode, enable propulsion machinery to operate in combinator/variable speed while the direct drive permanent magnet shaft generator produces electrical power up to 700kW for the vessel's electrical network. Significant savings can be achieved by drastically decreasing the operating hours of auxiliary generators, as well as reducing the need for maintenance.
In Boost Mode, WE Drive™ converts auxiliary generator power to propulsion power by employing the Direct Drive Permanent Magnet Shaft Generator as an electrical motor. It can provide boost power of up to 1,250kW directly to the propeller shaft to boost the main engine in demanding conditions, such as high bollard pull or sailing in icy condition. This solution is utilized as an Ice-Boost mode for M/V Haaga—the ice-class 1A ship when it sailing in ice.
Taking the Boost Mode solution into account during the ship's design phase, the total operational cost of a vessel can be much reduced compared with traditional propulsion machinery design. This is because the main engine size can be optimized to the propulsion power needed under normal conditions. Additional power boost is taken from auxiliary generators as required. This solution enables Boost Mode for any vessel type by running the WE Drive™ in Power Take In (PTI) mode.
"Our goal is to take our customers' vessels to the next level in terms of maximized energy efficiency and minimized fuel consumption," says Mårten Storbacka, Managing Director of WE Tech Solutions. "In order to optimally decrease the environmental footprint of the vessels and improve the efficiency of vessels' operations, WE Tech's PTI and PTO mode enables flexible and efficient operation of propulsion and power generation at sea as well as extra power for icy conditions."
"We aim to achieve the best levels of energy efficiency in our segment with WE Tech's technical supports and cooperation. We are committed to greener technology for the future," says Mikki Koskinen, Managing Director of ESL Shipping, "WE Tech's energy efficiency solutions bring a significant positive effect on the vessel's operation and environmental footprint, which considerably improves our profitability and competitiveness."
The products and services herein described in this press release are not endorsed by The Maritime Executive.