Rutter Inc. and Ørsted Announce Partnership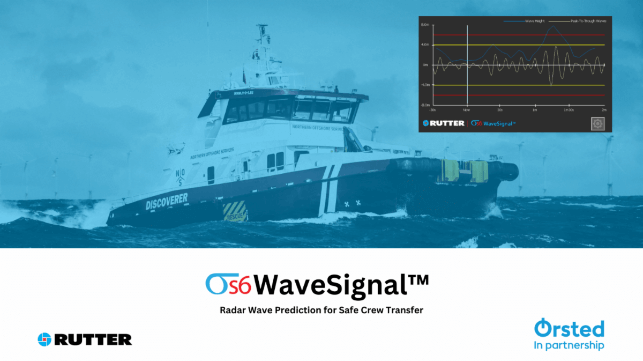 [By: Rutter Inc.]
Rutter Inc. and Ørsted announced a partnership aimed at improving the safe transfer of personnel to offshore wind turbines using Rutter's Wave prediction technology.
Under the partnership, Ørsted will deploy the wave prediction technology, sigma S6 WaveSignal™, to selected CTVs worldwide within their contracted fleet.
The technology is the culmination of 10+ years of research at Rutter and was released commercially in February 2021. The system processes data from on-board navigation radars to predict incoming waves up to 180 seconds in advance of vessel encounter, providing crews with crucial information for safe transfers.
In 2018, Rutter and Ørsted launched a project to investigate wave prediction applications for improving safety during transfers from Crew Transfer Vessels (CTVs) to offshore wind turbines, resulting in the development of wave prediction capability and operational processes to make transfers safer offshore.
The system's primary function is wave prediction, which indicates to the crew if there are swells that will develop above safe operating limits during a transfer. Allowing crews to know in advance how waves will impact their transfer enabling them to make informed and safe decisions.
The system has been in trials with Ørsted since 2021 and these trial systems have now gone into normal daily use. Initial trials began onboard a 27-meter CTV in the Walney Extension Windfarm and later deployed to a total of five Ørsted CTVs for a 12 month trial.
"After a long co development of the WaveSignal™ with Rutter we have decided to roll the system out on the majority of our fleet. Safety is of key importance for us at Ørsted and this initiative address one of the more critical situations offshore – namely the transfer to and from small CTV vessels. We are always on the lookout for solutions that can help us improve the safety in our operations" says Mikkel Windolf, Product Line Manager at Ørsted.
Deployment to the contracted fleet will commence throughout 2023.
As part of this agreement, Rutter Inc. and Ørsted are continuing to advance the research of radar wave prediction in offshore wind park construction and operations to further enhance safety.
"Rutter is proud to partner with Ørsted, utilizing our cutting-edge sigma S6 WaveSignal™ system. Our unwavering commitment to enhancing offshore worker safety and pioneering innovative technologies drives our constant pursuit of being a leader in innovative radar technologies. We eagerly anticipate the continuing deployment of our systems on Ørsted's CTV fleet, marking another stride towards safer and more efficient offshore wind park operations." says Rutter Inc. President Fraser Edison.
For additional information, please visit https://rutter.ca/wavesignal-ctv.
The products and services herein described in this press release are not endorsed by The Maritime Executive.