Intermarine UK Ramps up Portland Port Operations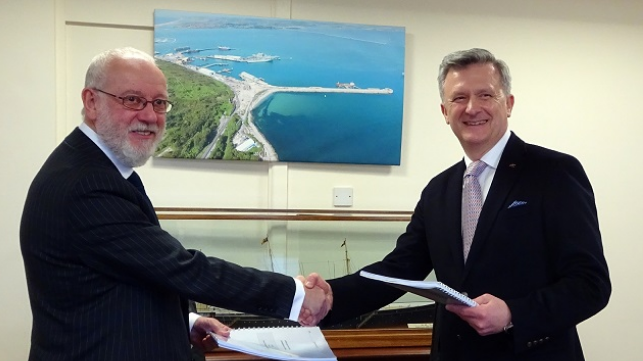 Maritime engineering company Intermarine UK is ramping up operations, at its new 2400sqm fabrication and welding facility at Portland Port in Dorset, U.K., after taking delivery of £450,000 of new machinery.
Inter Marine Group President Slawomir Kalicki said the Polish-owned company has invested its own cash reserves into the equipment, which include bending machines, welding sets, CNC plasma machines and laser cutters. In addition, Kalicki said since beginning operations in January the company has created 20 jobs, including 15 laborers and five office-based positions. In total he said 60 new jobs should be created in the next two years.
"We are delighted to receive all our equipment on-site and start the training and commissioning process with our workforce," he said. "We are investing substantially in our new facility taking a long-term view reflected in the 20-year lease we have signed. Intermarine is pleased to start employing workers from the South West region and we are recruiting for more multi-skilled engineers who have competence across plating, welding and mechanical fitting. We urge anyone in the area with this skill-set to get in contact."
Intermarine's investment in Portland has further been welcomed by the U.K. Government and the local authority.
Minister for Investment at the U.K. Department for International Trade Graham Stuart said: "Intermarine's £450,000 investment into Portland Port is just one example of the U.K.'s attractiveness for foreign investment. The company's investment in equipment will help create jobs and develop the skilled workforce across Dorset. Supporting growing local economies is essential to the whole countries success and through my international economic department, DIT is dedicated to promoting the U.K. as a destination to invest in and offers specialist support for investors around the world."
Cllr James Farquharson, Weymouth and Portland's brief-holder for Economic Development said: "We are delighted with the investment by Intermarine. We have long known the potential of Portland Port, and it is great news for the local economy that the commercial sector is increasingly utilizing Portland's unique offer."
Kalicki said the new Portland operation has already won orders including a £600,000 deal to supply piping to a major British shipyard as well as combing equipment.
"We have further been encouraged by the support we have received from the local authority and U.K. Government who understand our vision and our desire to invest in the U.K. creating jobs and providing skills," he said. "We have a clear track record in the UK maritime sector we want to build on, working on projects such as the Queen Elizabeth class aircraft carrier program. We have further worked with some of the prime movers in the industry including Babcock, Cammell Laird, BAE Systems, Fergusons and CalMac. We believe there is strong demand in the market for our services."
Kalicki said Intermarine is looking to work with shipyards around the U.K. offering a range of engineering services to the ship repair, refit, conversion and shipbuilding markets. In addition, he said Intermarine will be offering a global rapid response team who can undertaken afloat repairs anywhere in the world.
"We see huge potential in Portland Port as one of the best located ports in Britain," he said. "It sits on pole position for naval and commercial shipping operating on the South Coast and English Channel. Our aim is to complement the range of maritime services already available at the port by offering more extensive ship repair facilities encouraging ship owners to use Portland Port for afloat repairs. The depth and size of the harbor means Portland can accommodate ships of all sizes from naval vessels to cruise ships to ferries and tankers.
"Our services will focus on fabrication, welding and electrical services. This includes hull and deck repairs as well as pipe work design, installation and upgrade. We will further offer mechanical services including pump and valve overhauls and engine room upgrades. Moreover, we can undertake gallery and electrical upgrades and we can fabricate gates, handrailing and staircases."
Kaliki said the new facility is also launching a new spare parts service from Portland offering Wartsila, Cegielski, Sulzer, MAN, B&W and Cummins engines, Hydroster IMO pumps, Alfa Laval and Westfalia separators, ABB and Napier and WSK turbochargers as well as marine laundry equipment made by Primus and Lavamac.
Portland Port Fact File
· Portland is a thriving commercial port located in Dorset on the U.K.'s south coast.
· Portland Port operated as a base for the Royal Navy for nearly 150 years from the mid 19th century through to 1996 when Portland Port was then privatized and taken over by the Langham Group. Portland Harbour Authority later took over as the statutory harbor authority in 1998.
· Since then the harbor has developed into a thriving commercial port, that handles cruise ships, cargos, bunker vessels and also maintains a strong relationship with the Royal Navy and the Royal Fleet Auxiliary.
· Under the umbrella of the Portland Port Group are two separate entities: Portland Port Ltd and Portland Harbour Authority Ltd
· The port and its tenants are now a major employer within the local economy.
· The port's close proximity to the English Channel shipping lanes provides an ideal location for vessels both in terms of distance and travel time.
· The harbor is well protected from the south and south westerly winds, as it shelters behind the Isle of Portland and Chesil Beach, and is circled by an extensive breakwater system which protects it from adverse easterly weather conditions.
· Portland Port offers a safe, sheltered and deep harbor which makes it a superb choice for all vessels, from small yachts to some of the largest cruise ships in the world.
· Due to its geographical location, it allows fast, safe access 24 hours a day. The port has a strong reputation as the south coast's premier service station, where vessels are able to undertake a wide range of services; ownership/management/name change surveys, classification surveys, stores and crew transfers, as well as a wealth of underwater operations.
Port Capabilities
The key features of the port are:
· A dock estate of nearly 200 hectares and a marine jurisdiction stretching over 2,400 hectares
· Over 2,000 meters of alongside berths
· 11.6 meters (C.D) depth of water at the deepest alongside berth
· Six designated anchorages in the outer harbor with depths at anchorage of up to 20 meters (C.D)
· Nine designated anchorages within the inner harbor with depths at anchorage of up to 15 meters (C.D)
· Very little beam and draft restriction with width at harbor entrance at 210 meters and depth at 12.4 meters (C.D)
· Pilotage and towage available 24/7
The products and services herein described in this press release are not endorsed by The Maritime Executive.