Damen Maaskant Shipyards Stellendam Celebrates 70 Years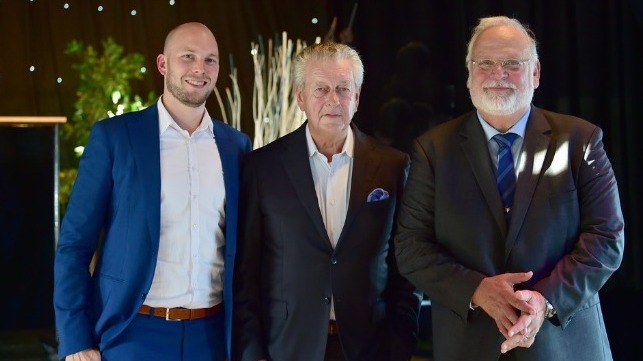 On Saturday, October 13, a party was held at Damen Maaskant Shipyards Stellendam (DMSS) to mark three key events: the 70th anniversary of the foundation of the yard, the departure of Managing Director Frits van Dongen and the appointment of Eric Moerkerk in his place.
Founded by Piet Maaskant and his two sons in 1948 as a repair yard in Bruinisse for the local fishing boats, the yard that is now DMSS has, despite a subsequent move to Stellendam, stayed true to its roots ever since. In that period it has developed a side specialisation in maintaining winches, but it has also built 627 new vessels, many of which have been fishing boats. This has been a cyclical market, but in the current decade the yard has benefited from demand from the offshore industry and, more recently, an upturn once again in the fishing industry. Recent deliveries have included the completion of the first new beam trawler in the Dutch fleet in a decade, and two innovative, tightly designed fly shooter & twin rig vessels.
As well as a celebration of all that has happened over the past seven decades, the party will mark the change in leadership at the yard. Frits van Dongen, who has worked at Damen for the past 40 years, with 25 of those as managing director of DMSS, handed over his responsibilities on the first of October to Eric Moerkerk. Eric was previously at Keppel Verolme, which became part of Damen in September 2016. At that point he moved to DMSS as project manager and ten months later was promoted to deputy director.
"Frits has been an enthusiastic ambassador for the fishing industry," says Jan-Wim Dekker, Chief Products Officer for the Damen Group. "He will continue to carry out support tasks for both Maaskant Shipyards and for our headquarters in Gorinchem while also partial making use (1 or 2 days in the week) of his early retirement entitlement. I would like to thank Frits for his commitment to Damen and wish Eric much success in his new role."
"I'm happy to be back at home and, as a son of a fisherman and a member of a family that owned a Maaskant beam trawler, it really feels like coming home," adds Eric Moerkerk. "I look forward to continuing our journey and to setting course for 100 years of Damen Maaskant. Despite the challenging conditions within our home market I am confident that we will continue to deliver sustainable and profitable products for our customers."
The products and services herein described in this press release are not endorsed by The Maritime Executive.