Yokohama Boosts Cruise Amenities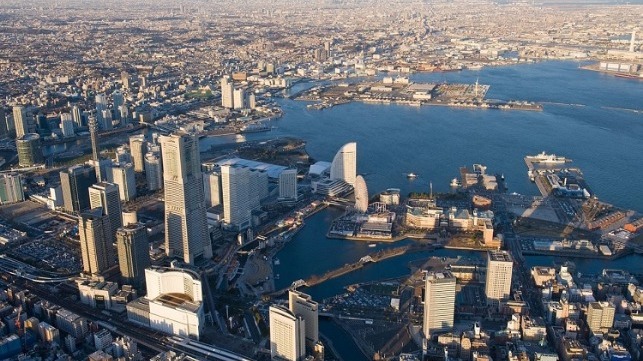 The cruise industry is growing in Japan, and Yokohama, with a population of 3.7 million and the second largest city in Japan after Tokyo, is being positioned as a cruise hub.
Two cruise piers - Daikoku and Shinko - will open in Yokohama in 2019. Shinko will be dedicated to cruise ships. Daikoku will receive mostly cargo ships but will also be open for some larger cruise ships, such as the Queen Elizabeth II.
With the opening of these two piers, in addition to the current Osanbashi International Passenger Terminal, Yokohama port will be the largest in Japan in terms of capacity, able to accommodate seven ships at one time.
In 2019, 190 cruise ships will arrive in Yokohama, 90 of them foreign flagged. This is a 25 percent increase over 2018. Yokohama is the most frequently visited Japanese port for English-speaking passengers.
Shinko Pier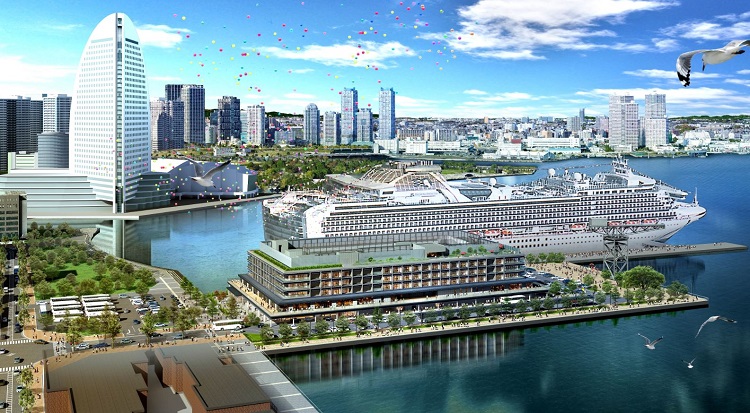 Carnival Corporation, which includes the Princess and Costa brands active in Japan, has preferential use rights to Shinko Pier and will host over 80 vessels annually. Other cruise lines that will dock at Shinko include: Royal Caribbean, Windstar, MSC, Azamara, and NCL. 400,000 cruise ship passengers are expected annually.
The five-story Shinko Pier, also known as Yokohama Pier 9, is currently scheduled to open in November 2019. Occupying an area of 30,290 square meters on a site footprint of 17,700 square meters, this new port will be dedicated exclusively to passenger cruise ships.
In addition to the Passenger Facilities Terminal itself, the complex will include dining, entertainment and a hotel. The first floor will house Customs, Immigration & Quarantine along with convenience and a food court. The mezzanine level will house a craft beer restaurant, and the second floor will house other restaurants.
The land adjacent to the new Shinko pier terminal will be developed into Hammerhead Park and Promenade incorporating the historic Shinko Pier Hammerhead Crane. This was Yokohama's first quay crane, installed in 1914. The plan is for it to become a second symbol of the city, akin to the nostalgic Red Brick Warehouse.
The pier flagship will be a new five-star hotel to be operated by the Yokohama Grand Intercontinental. The hotel entrance will be on floor one, with the second floor showcasing both the hotel restaurant and lobby. Shinko's top three floors will be devoted to luxury guest rooms, all over 45 square meters in size. Cruise ship passengers, spending a pre-night at the port hotel, will be able to check-in for their cruise at the hotel and be escorted on board.