Video: Drug Smugglers Dive from Boxship into the Ocean with Cocaine Bundles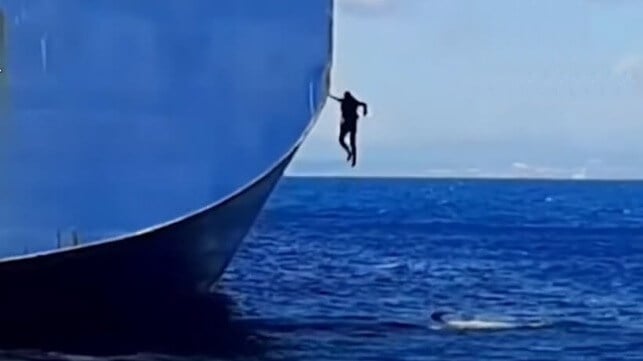 Spanish police released a video of their recent arrest of two smugglers showing the men jumping from the stern of a containership into the cold waters of the Mediterranean in the latest attempt at smuggling. The police also recovered 100 kilos of cocaine.
The 79,300 dwt containership Olivia I is registered in the Marshall Islands and currently operating a Mediterranean-Caribbean route under charter to CMA CGM. Spain's Guardia Civil reports the vessel was already under surveillance after having been identified as possibly involved in smuggling drugs. The vessel, which has a capacity of 6,800 TEU, departed Cartagena, Columbia on October 14 and was sailing to Algeciras, Spain as its first stop.
The two individuals who had stowawayed reportedly living for days in a container aboard the Olivia I with the shipment of cocaine however had different ideas. They tried to make an unscheduled debarkation while the ship was about 11 nautical miles from the port of Ceuta on the northern coast of Africa and near the eastern end of the Strait of Gibraltar.
(Near the 20-second mark two jumpers can be observed from the containership)
The police report the men were well-prepared to test their Olympic diving skills, They were reported to be wearing neoprene diving suits. The video shows possibly someone from the crew pointing to the two stowaways just before they jump from a lower deck at the stern and are seen swimming around the containership. The police believe they were in coordination with a small boat which was to pick up the two men and three bundles of cocaine. The cocaine was wrapped in plastic and the police report the smugglers had attached life jackets with beacons to the bundles and GPS tracking devices.
The Portuguese Air Force had previously overflown the containership in an operation with the Civil Guard, National Police, and the Customs Surveillance officers from the Tax Authority. Suspicions had increased when the police observed three bundles dangling from the stern of the vessel on ropes. So, when the men took their dive, instead of being met by their compatriots in the small boat, Guardia Civil officers were waiting to apprehend them.
The containership was permitted to continue making its stop in Algeciras on October 24 and has now proceeded to Malta and Genoa. It is now sailing to Livorno, Italy maintaining its route.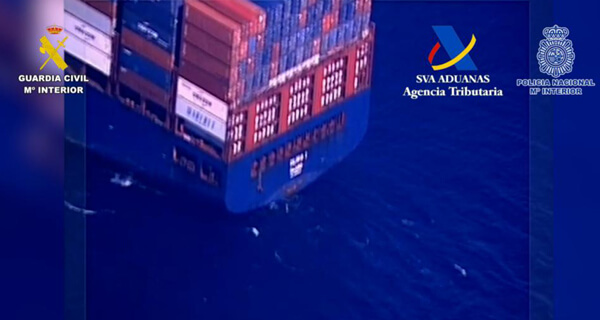 Bales of cocaine are dangling from the stern of the vessel (Guardia Civil)