USS Gabrielle Giffords (LCS 10), the U.S. Navy's newest littoral combat ship, was commissioned at the Port of Galveston on June 10.
In 2012, the Secretary of the Navy announced the future ship's name, and USS Gabrielle Giffords became the 16th ship to be named for a woman and only the 13th ship to be named for a living person since 1850.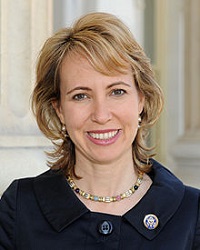 She is named after former U.S. Rep. Gabrielle Giffords. A Democratic, she represented Arizona's 8th congressional district from January 3, 2007, until her resignation on January 25, 2012, after surviving an assassination attempt that left her with a severe brain injury. She was shot in the head on January 8, 2011; 13 people were injured and six others were killed in the shooting. After undergoing rehabilitation, she recovered some of her ability to walk, speak, read and write. On August 1, 2011, Giffords returned to the House floor to vote and was greeted with a standing ovation.
The ship is commanded by Cmdr. Keith Woodley, a native of St. Thomas, U.S. Virgin Islands. Most other Navy surface combatant ships have a crew of 300 or more Sailors, but littoral combat ships like Gabrielle Giffords have more automated systems and much smaller crews than their counterparts. Gabrielle Giffords' crew is just 73 at the ship's commissioning.
The 3,200-ton Gabrielle Giffords was built by Austal USA in Mobile, Alabama. The ship is 421 feet in length and has a beam of 103 feet and a navigational draft of 15 feet. The ship uses two gas turbine and two diesel engines to power four steerable waterjets to speeds in excess of 40 knots.
Littoral combat ships are fast, agile, mission-focused platforms designed to operate in near-shore environments, while capable of open-ocean tasking and win against 21st-century coastal threats such as submarines, mines and swarming small craft.
A fast, maneuverable, and networked surface combatant, Gabrielle Giffords is capable of operating independently or with an associated strike group. It is designed to defeat growing littoral threats and provide access and dominance in coastal waters.
USS Gabrielle Giffords will depart now Galveston to begin her transit to her homeport at Naval Base San Diego.