U.S. Navy Reports Second Man-Overboard in Two Weeks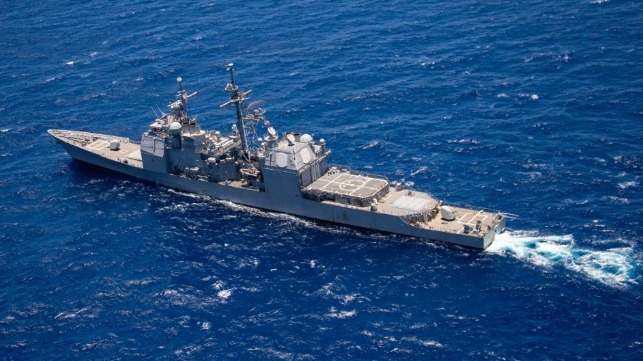 The U.S. Navy reported Monday that it is once again engaged in a search and rescue effort for a missing sailor in the Pacific theater, less than two weeks after a marine went missing from the amphib USS Essex in the Sulu Sea.
At about 0700 hours local time Sunday, a sailor aboard the cruiser USS Lake Erie failed to report for duty. The crew conducted several extensive searches of the vessel but could not locate the individual, and the ship initiated man-overboard procedures.
The Lake Erie was under way in the Eastern Pacific at the time of the incident as part of the USS John C. Stennis Carrier Strike Group. Vessels and aircraft from the CSG are conducting a SAR operation with assistance from the U.S. Coast Guard.
The family of the missing sailor has been notified but the Navy has not yet released the individual's identity to the public.
Missing marine identified
On Sunday, the 13th Marine Expeditionary Unit identified the marine who went missing from the USS Essex on August 9.
The victim, helicopter crew chief Cpl. Jonathan Currier, was deployed with the 13th MEU's Medium Tiltrotor Squadron 166 aboard the Essex. When he went missing, the Navy launched a search in the Sulu Sea and Surigao Strait. Phillipine and Singaporean authorities supported the effort. The search lasted five days and covered more than 13,000 square nautical miles, with more than 110 sorties and 300 flight hours. It was called off on August 13, and Cpl. Currier was declared deceased on August 17.
Cpl. Currier was the recipient of the National Defense Service Medal and the Global War on Terrorism Service Medal.
"Our hearts go out to the Currier family," said Col. Chandler Nelms, commanding officer of the 13th MEU. "Cpl. Currier's loss is felt by our entire [crew], and he will not be forgotten."