U.S. Navy Dispatches Command Ship to Israel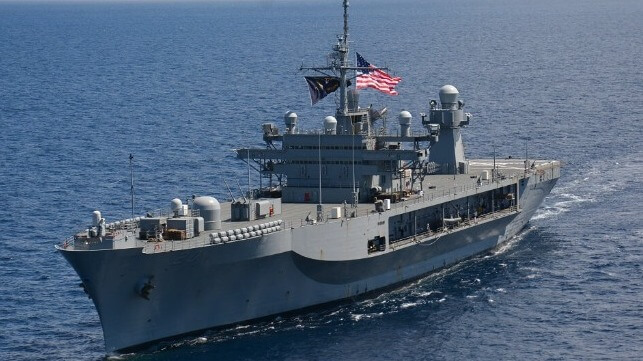 The Pentagon has confirmed that it is sending the 26th Marine Expeditionary Unit (MEU) and at least two amphibs to the Eastern Mediterranean in order to be ready for any possible crisis-response mission in Israel or Gaza, confirming earlier reports. It is also dispatching the U.S. 6th Fleet command ship, USS Mount Whitney, to join the growing flotilla off the Israeli coast.
"The Department remains focused on three primary objectives: First, supporting Israel's defense through security assistance; second, sending a clear message of deterrence to any actors considering involvement in the conflict; and third, being vigilant against any threats to U.S. forces," said Pentagon spokesperson Sabrina Singh on Wednesday.
The three amphibs and approximately 2,000 Marines of the Bataan Amphibious Ready Group (ARG) have been in the general region since summer. USS Bataan and USS Carter Hall were on a separate mission near the Strait of Hormuz and are now under way back towards Israel; the third ship in the ARG, USS Mesa Verde, has departed Spain and put to sea in the Mediterranean for unspecified purposes.
The carrier USS Gerald R. Ford and her escorts are already stationed off the coast of Gaza, and the carrier USS Dwight D. Eisenhower is under way to join the force.
1971-built USS Mount Whitney will bring the unique capabilities of a Blue Ridge-class command ship to the growing fleet of warships off Israel's coast. She serves as the flagship of U.S. 6th Fleet and as the afloat command platform for NATO's naval forces, and she has been continually upgraded over the decades with new computers, radioes and satcom systems.
In addition to Mount Whitney's unrivaled command and control systems, the ship is can carry supplies to support a mass evacuation of up to 3,000 personnel - a useful capability in the event that American citizens have to be rescued from a conflict.
The Navy laid out plans to decommission USS Mount Whitney in the FY2023 budget, hoping to save $180 million in expenses. If actualized, the ship would leave the service in FY2026. Unusually for a commissioned warship, she is partially crewed by Military Sealift Command's civilian mariners.