U.S. Navy Destroyer Shoots Down Drone Over the Red Sea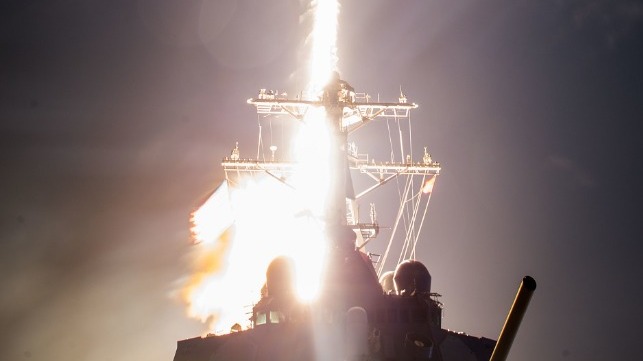 The destroyer USS Thomas Hudner has downed a suspicious drone over the Red Sea, according to the U.S. Department of Defense.
On Wednesday, as the Hudner was under way in the Red Sea, it "engaged a drone that originated from Yemen and was headed in the direction of the ship," the Pentagon reported. "The Hudner's crew engaged and shot down the drone to ensure the safety of U.S. personnel."
No casualties or damage to the ship were reported.
The incident follows shortly after the Iran-backed Houthi rebel group threatened to attack Israeli shipping in the Red Sea. "Our eyes are open to constant monitoring and searching for any Israeli ship," Houthi leader Abdul-Malik al-Houthi said in an interview with a Houthi-controlled television outlet.
Israel and the United States have previously downed projectiles and drones from Yemen that were likely headed to targets in Israeli territory. On Tuesday, the Israeli Defense Forces said that its troops had used the Arrow Aerial Defense System to shoot down a missile over the waters of the Red Sea, and that air raid sirens had been activated in the southern port city of Eilat.
Houthi rebels have used missiles, drones and remotely-controlled boats to strike ships and maritime infrastructure many times in the past. Over the course of their long war with Yemen's recognized government and its Saudi backers, the rebels have struck tankers and warships on multiple occasions, causing limited damage.
Since the beginning of the Israeli security operation in Gaza, Iran has encouraged its regional proxies in Yemen, Syria, Iraq and Lebanon to attack and harass Israeli interests and American troops. So far, thanks in part to a heavy regional buildup of U.S. Navy and U.S. Air Force assets, these Iranian-aligned actors have refrained from joining the conflict en masse.
"We have not seen this war spill over into other neighboring countries and into the region," emphasized Pentagon spokeswoman Sabrina Singh on Wednesday.
However, missile strikes carried out by Iranian proxies have injured dozens of American troops stationed in Syria and Iraq, prompting retaliatory strikes by the U.S. Air Force. All of the injured personnel have been able to return to duty, according to the Pentagon.