U.S. Dispatches Hospital Ship to Help Venezuelan Refugees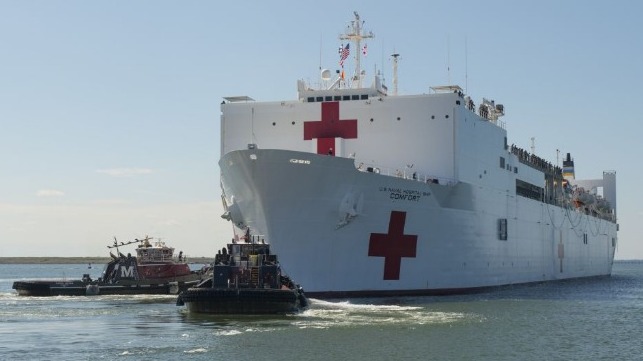 The U.S. Navy hospital ship USNS Comfort will depart Norfolk, Virginia on October 11 for a four-month medical assistance mission in Ecuador, Peru, Colombia and Honduras. In particular, she will help neighboring nations to deal with the flood of Venezuelan refugees fleeing the collapse of their nation's economic system.
"It is an absolutely a humanitarian mission. We're not sending soldiers; we're sending doctors. And it's an effort to deal with the human cost of [Venezuelan President Nicolás] Maduro, and his increasingly isolated regime," said Secretary of Defense Jim Mattis, speaking during a visit to Colombia in August.
The ship will bring about 200 military doctors, nurses, and technicians from the United States and partner nations. In addition, about 60 medical and dental professionals from NGO aid groups will be on board. Their combined expertise will give Comfort the ability to provide general surgery, eye surgery, optometry, dentistry, and general medicine and public health services for up to 750 patients per day.
Comfort and her sister ship USNS Mercy are the largest hospital ships in the world, and either vessel would qualify as the second-largest hospital in the United States. Comfort is equipped with surgical and post-surgical rooms, a CAT scan unit, four X-ray machines, a dental suite, an optometry lab, a physical therapy area, two oxygen-producing plants, and a 5,000-unit blood bank. Like all ships in the Military Sealift Command fleet, USNS Comfort is crewed by civilian merchant mariners, who will tend to the ship's navigation and operations.
On the upcoming deployment, USNS Comfort will visit Esmeraldas, Ecuador; Peru (port to be determined); Riohacha and Turbo, Colombia; and Puerto Castilla, Honduras. While the mission is aimed at assisting Venezuelan refugees, there are no planned calls at Venezuelan ports. Tensions between the U.S. government and Venezuela are high, and U.S. President Donald Trump has called on Maduro to "act a lot more humanely."