U.S. Coast Guard Prepares for Back-to-Back Storms on the Gulf Coast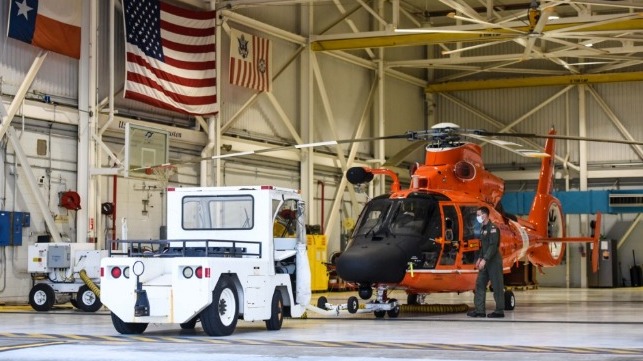 The Coast Guard is changing port access conditions, pre-staging response assets and urging safety precautions in the U.S. Gulf Coast region due to a forecast of two tropical systems expected to arrive in the area this week.
Tropical Storm Marco is expected to make landfall in Louisiana on Monday afternoon and Tropical Storm Laura is expected to arrive on Wednesday. The current forecast calls for Laura to strengthen to hurricane strength before making landfall.
"We highly encourage people to stay off the water, be prepared and stay informed," said Petty Officer 1st Class Amelia Chutchins, District Eight command center. "We haven't seen two storms in the gulf in about 60 years and they are both expected to make landfall this week, as of right now. Our crews are doing everything they can to prepare and are pre-staging response assets to be able respond to emergencies as rapidly and safely as possible once the storms pass."
The Coast Guard is reminding the public to:
Stay off the water. Hurricanes and tropical storms can be deadly, and its ability to conduct rescues can be diminished or non-existent at the height of a storm.
Be prepared. Owners of large boats are urged to move their vessels to inland marinas where they will be less vulnerable to breaking free of their moorings or to sustaining damage. Mooring lines should be doubled in case of high winds. Boats that can be trailered should be pulled from the water and stored in a place that is not prone to flooding. EPIRBs and life vests should be removed to reduce the risk of false alerts.
Evacuate as necessary. If mandatory evacuations are set for an area, the public should evacuate without delay.
Stay informed. Monitor the storm via the media, NHC's website or Channel 16 VHF.
The region's maritime enterprises are also preparing for the arrival of the twin storms. Pascagoula-based defense shipyard Ingalls Shipbuilding plans to temporarily suspend production work on Monday "due to the likelihood of heavy rain and higher than normal tides," parent company Huntington Ingalls said in a statement Sunday. Ingalls' UNO ship design and research center in Louisiana will be closed through Wednesday.