Turkey's Tersan Acquires Havyard Leirvik Strengthening Position in Europe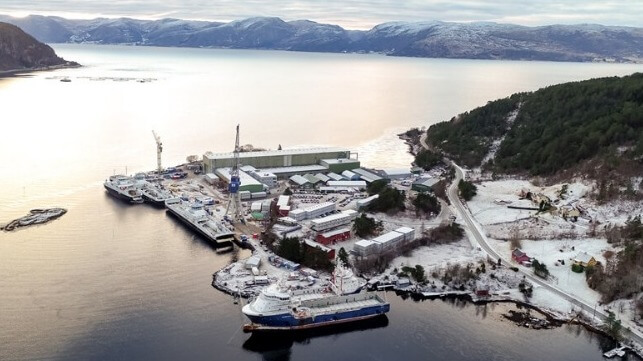 Turkey's Tersan Shipyard group acquired the Havyard Leirvik shipyard in Norway as it looks to expand its position in Europe. The sale of the shipyard group comes after several challenging years for the company which had repositioned to work as a repair yard while the sale continues the transition of its parent company Eqva to an investment company.
One of Norway's oldest continuing shipyards, Havyard had been building ships in its location near Bergen since 1918, but as a midsized yard struggled to compete in recent years. Its parent group announced in 2020 plans to end newbuilds after six orders then on the books and downsize to be a repair and service yard. The yard which was operating as New Havyard Ship Technology was renamed Havyard Leirvik with its last newbuild scheduled to leave the dock in August 2021.
Havyard Leirvik is being sold to Tersan Shipyard in a deal where the shipbuilder based in Turkey is acquiring 100 percent of the shares of the group which includes Havyard Leirvik AS and Havyard Leirvik Eiendom. The cash portion of the deal is $2.7 million.
"We are confident that Tersan will be a strong new owner for Havyard Leirvik, with a clear strategic interest in continuing its proud industrial tradition. As a leading player in the industry, Tersan has proven expertise and local knowledge from collaborating with a wide range of customers in the maritime and aquaculture industries. For Eqva, it is important that we are leaving the yard in good hands," says Matre Ellingsen, Chair of the Board of Eqva.
Tersan highlights that they had previously worked with Havyard on individual projects. Through the acquisition, they look to strengthen operations in Europe, increase production capacity, and develop joint working methods.
With two yards, Tersan reports it is one of the largest shipbuilders and repair facilities in Turkey. Tersan says it delivers an average of six to 10 newbuild ships per year depending on the ships' sizes and their complexity. Tersan decided to invest in a new shipyard in 2008 in Yalova, Turkey with more capacity in addition to its original location in Tuzla (Istanbul) which continues as a repair yard. They introduced a floating dock in Yalova in 2013 for repair work and in 2019 added an Aframax floating dock built at the yard. Tersan employs approximately 4,200 people in its two shipyards and has built more than 100 ships. Its current orderbook includes offshore service vessels, ro/ro ferries, and fishing vessels. The yard has also developed expertise in new systems including LNG and batteries, including building the four coastal passenger ships for Norway's Havila Cruises.
"We are looking forward to becoming part of Tersan Shipyard," said Tor Leif Mogstad, CEO of Havyard Leirvik. "It is a highly reputable company with a good standing in international shipping and maritime circles, and with a clear ambition to further strengthen its position in Northern Europe with Havyard Leirvik as a stepping stone."
Eqva, which was the former Havyard Group, is transitioning to be an industrial investment company. Through a merger in May 2022, they acquired BKS Holding, an integrated system supplier for maritime, offshore, and land-based industries, and Fossberg Kraft, a specialist in the development, construction, and operation of small hydropower plants in Norway. They also hold a 50 percent investment in platform supply vessel (PSV) Havila Charisma. The company reports the sale of Havyard Leirvik will free up resources enabling a concentrated focus on further development of Eqva's current industrial portfolio, and to look for new investment opportunities.