The Rich are Getting Richer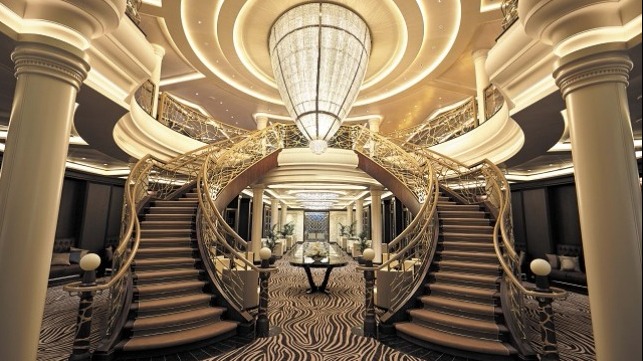 The high-end, ultra-luxury segment of the cruise industry is expanding. In 2017, three new luxury ships were introduced, and the segment will continue to see steady growth with two new ships a year scheduled to enter service over each of the next four years.
Currently, there are a dozen new ships on order for the luxury segment, which will add over 8,000 berths to the market. This represents an approximate 45 percent increase in capacity for the luxury market.
"Essentially the rich are getting richer," says Laura Mandala, CEO of Mandala Research, a firm specializing in travel and retail market research. "These vessels can be accommodated within the industry and can do a lot to differentiate themselves."
Traditionally a smaller part of the overall cruise business, the first of the brands focusing on luxury cruising emerged about 30 years ago. The early leaders included Sea Goddess Cruises (today SeaDream Yacht Club) and Seabourn Cruise Line followed by other lines including today's Regent Seven Seas Cruises and Silversea Cruises.
While new, headline-grabbing mega-ships are featuring amenities ranging from car races to skydiving simulators, the luxury ship market is highlighting the experiences and the destinations offered while traveling surrounded by high-end amenities and pampering service. Added to this is all-inclusive pricing and pre-cruise and onboard concierge services to help customize the vacation experience.
Among the efforts underway, the brands focusing on this segment are aggressively overhauling their ships to ensure that the onboard environment is similar to luxury resort hotels. Regent Seven Seas Cruises, for example, is completing a $125 million overhaul of its three older ships to ensure they provide comparable surroundings to the new 750 passenger Seven Seas Explorer that was introduced in July 2016. Regent also has a sister ship, the Seven Seas Splendor, on order due to enter service in early 2020.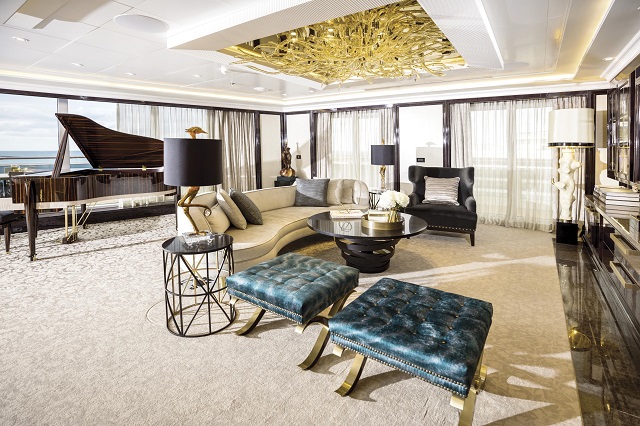 Suite on Seven Seas Explorer
Similarly, Silversea introduced the 40,700 gross ton Silver Muse, which accommodates 596 passengers, in April 2017 and has a sister ship, the Silver Moon, ordered from Fincantieri for delivery in 2020. Silversea is also refurbishing its existing ships and will lengthen the Silver Spirit in the spring of 2018 with the addition of a 49-foot mid-body. The addition of 34 new suites will increase her capacity to 608 guests.
Seabourn Cruise Line chose to replace its original trio of 200-passenger vessels with a new generation of larger and more elegantly appointed ships. Starting with the 32,000 gross ton Seabourn Odyssey in 2009, they modernized and expanded with four second-generation ships and a fifth, the Seabourn Ovation, is scheduled to enter service in May 2018. The first three new ships accommodate 458 passengers while the fourth and fifth ships, each at 40,350 gross tons, accommodate 600 passengers.
The most dramatic growth in the segment, however, is coming from the new entrants into the market. Viking, which is well known for its river cruises, launched ocean cruising in 2015 with the new 930-passenger Viking Star. To date, Viking has introduced four ocean ships with six additional sister ships either under construction or on order for a total capacity of 9,300 berths.
The Ritz-Carlton brand, known for its deluxe hotels and luxury residences, will also be entering the cruise market in the fourth quarter of 2019. Ritz will operate three new 21,000 gross ton luxury yachts that will each accommodate 298 passengers. These new ships will include features such as the Ritz-Carlton Spa and dining from three Michelin-starred chef Sven Elverfeld. Like many of the lines in the sector, Ritz plans to highlight its destinations.
While expedition cruising is focused on a different style of destination, the divide between the two markets is also blurring as the expedition firms begin launching luxury ships. Traditionally offering more basic shipboard facilities, several of the expedition companies are now building luxury ships to upgrade their onboard experiences.
The economics of operating smaller ships and offering luxury amenities make this a demanding segment, but the cruise lines continue to attract more high net worth travelers and the affluent segments of the world population are expanding.