Technology Boom at U.S. Ports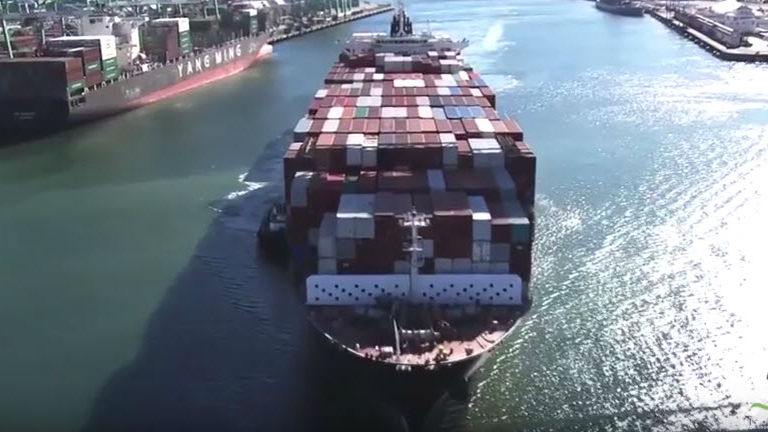 During the first six months of this year, global container port throughput rose by 6.7 percent and is on track to reach over six percent for the full year. This is a six-year high, according to Alphaliner. U.S. ports continue to respond to growing demand, and technology is at the heart of efficiency advances being made.
Long Beach
ABB has released a new video exploring the operations at Long Beach Container Terminal where they delivered automation technology for all the cranes including automated container identification and door direction. The automatic stacking cranes feature a gantry speed of 240 meters (787 feet) per minute.
Los Angeles
The Port of Los Angeles and GE Transportation are expanding the port's computerized operations management portal after a successful trial earlier this year. The companies have agreed to a deal worth nearly $12 million which extends their relationship for at least five years.
Virginia
The Port of Virginia has ordered four new ship-to-shore cranes that are part of the $320 million expansion of Virginia International Gateway. The cranes are being built by Shanghai-based Zhenhua Heavy Industries, and are the largest of their kind in the U.S. They will be able to reach across a vessel that is 26 containers wide, which is three-to-four containers wider than most cranes.
The contract also includes the purchase of several specialized cargo handling components for the cranes and an option on two additional ship-to-shore cranes for use at Norfolk International Terminals. Once the new cranes are delivered, The Port of Virginia will have 30 ship-to-shore cranes at work in the Norfolk Harbor and the ability to service the biggest container ships sailing the Atlantic Ocean: VIG will have 12 cranes; NIT has 14; and Portsmouth Marine Terminal (PMT) has six. The new cranes are set for delivery in April 2019.
Northwest Seaports
Earlier this month, the Northwest Seaport Alliance ranked highest on the U.S. West Coast and second overall in the West Coast category in Logistics Management's 2017 Quest for Quality awards.
Readers evaluated ports using five criteria: ease of doing business, value, ocean carrier network, intermodal network and equipment and operations. A port had to receive at least five percent of the category vote to win, and the Northwest Seaport Alliance was one of only three West Coast ports to reach that threshold.
In July, the Northwest Seaport Alliance relaunched a mobile application to help speed the flow of cargo along local freight corridors, reduce idling-related air emissions and save fuel. DrayQ is designed to give truck drivers real-time information about wait times in and around marine cargo terminals and traffic camera views at the touch of a fingertip.
Drivers can use the app to determine the best time to enter a terminal and reduce the time spent in traffic, which helps reduce air emissions from idling and saves fuel. For dispatchers or shippers, it helps to optimize schedules and improve customer expectations.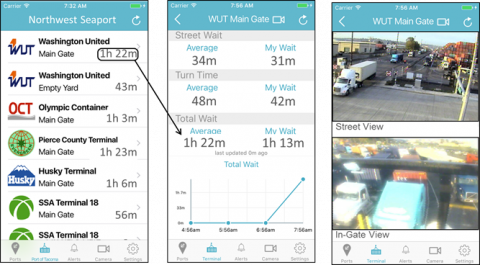 Oakland
Meanwhile, big ships are having an impact at the Port of Oakland. New data indicates that the Port may receive its second-fewest container ship visits in a decade this year. "This is a good trend," said Maritime Director John Driscoll. "Our cargo volume is up but with fewer ships, we reduce diesel emissions and ease berth crowding."
The Port said that through July, 954 container ships visited Oakland, down 7.6 percent from 1,032 visits at the same time last year. If the trend persists, vessel calls for the full year would total about 1,650. That would be about 100 fewer ships than Oakland received last year. The larger ships are loading and unloading about 11 percent more containers per visit.