Stolt Tankers Splurges for up to 12 Newbuilds Saying "The Timing is Right"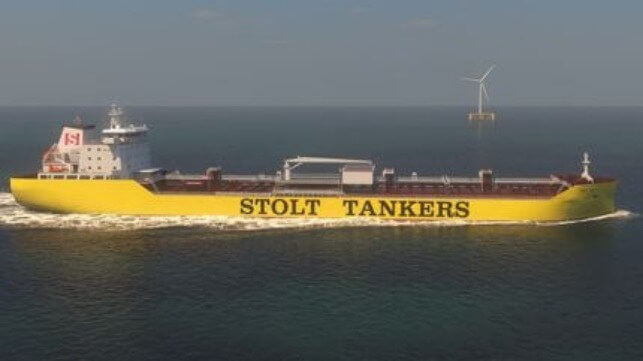 Stolt Tankers which already bills itself as the world's largest operator of chemical tankers says that it believes the timing is right to launch a significant investment for new stainless steel parcel tankers. Citing its strong balance sheet and cash flow, the tanker operator placed a firm order for six vessels with an equal option for six additional vessels, all designed to further advance its approach to reduce emissions and be future-ready.
The company has contracted Wuhu Shipyard of China to build the vessels, which will be 38,000 dwt. Delivery for the ordered vessels is between 2026 and 2028 and at the same time they hold an option for a further six newbuilds. Those are likely to follow by 2030 as the company moves forward with its fleet modernization. Norwegian financial media Finansavisen reports the order could be valued at over $700 million.
"Following our well-timed acquisitions of 10 secondhand ships since 2021, now is the right time to invest in newbuildings," said Udo Lange, Chief Executive Officer, Stolt-Nielsen Limited, the parent company of the tanker operator. "This deal positions Stolt Tankers for the future by improving flexibility and maintaining our fleet size as we retire older ships from our network between 2026 and 2030."
Like all shipowners, one of the key considerations is investing in ships that will be able to respond to the changes emerging in environmental regulations as well as the market. Stolt highlights that the new ships incorporate features anticipating the future.
The ships are designed to maximize fuel efficiency using modern engine design, hull form optimization, a wide range of energy savings devices, along with a shore power connection. They are also being built so that they can also be converted for future battery and methanol propulsion.
To provide cargo flexibility, the ships will also be built with 30 stainless steel cargo tank segregations. According to the company, this feature responds to the changing needs of customers.
Stolt currently has a fleet of 166 ships representing over 3 million dwt. The future strategy focuses on adding modern, fuel-efficient ships according to management as part of its ambition to reduce its carbon intensity by 50 percent by 2030 compared to 2008.