South Korea Will Invest $534M to Advance Next-Generation Shipbuilding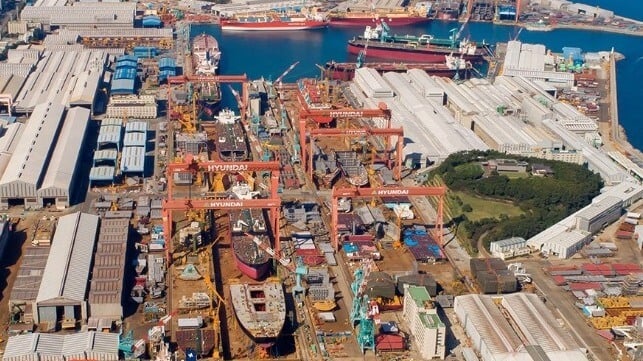 The South Korean government outlined its plans to invest in the future of the shipbuilding industry as it seeks to expand its role in supplying the next generation of shipping. The plan calls for an investment of $534 million over five years focusing on furthering the efforts in new technologies and alternative fuels as well as enhancing the manufacturing capabilities.
South Korea has established a strong position competing with Chinese shipbuilders while currently leading in the sectors that the government calls high-value ships. South Korea builds the majority of gas carriers including LNG vessels and looks to use that expertise for new segments including ammonia and hydrogen as well as battery power. They are also investing heavily in autonomous shipping systems as well as the use of AI and other emerging technologies.
"With the global shipbuilding industry's upturn adding a tailwind to Korea's shipbuilding industry, we expect to see great opportunities for making a rebound and new leap," said Vice Minister Youngjin Jang of South Korea's The Ministry of Trade, Industry and Energy (MOTIE)
They outlined the "K-Shipbuilding Strategy for Next-Generation Market Dominance" on November 15 at a ministerial meeting focusing on exports and investment promotions. MOTIE's goal is to seize over 80 percent of the next-generation shipbuilding market.
Among the steps outlined, MOTIE will launch technological development and demonstration projects focusing on the three major carbon-free fuel sources, namely LNG, ammonia, and hydrogen. The technology projects will also seek the early commercialization of autonomous self-navigating ships.
The South Korean shipyards are currently challenged by a lack of trained workers. The government has taken steps to permit additional foreign workers while promising new policies to support training and apprenticeships. As part of the new strategy, MOTIE said it will train over 3,000 people to be core technology talent, and seek technology collaboration with overseas partners. They will also improve the visa system based on the mid-to-long term projections on foreign manpower requirements.
To establish an innovative manufacturing system with heightened productivity, MOTIE will also invest in building smart shipyards. Among the steps they are calling for is the increased use of robotics to realize a digital transformation in the industry.
The efforts will also extend beyond supporting the "big three," HD Hyundai, Samsung, and Hanwha Ocean that lead the country's shipbuilding industry. The government said it will support the entrance into overseas markets and technology development for stronger self-sustainability of small and medium-sized shipbuilders and the materials and equipment industry.
In addition, the ministry committed to improving the financial support infrastructure, strengthen cooperation with large corporations, and across the industry and supplies to accelerate sustainable growth. Finally, they are exploring developing laws for the "Promotion of Industrialization and Technological Innovation of the Next-Generation Shipbuilding Industry" which would be designed to expand exports and boost shipbuilders' bid winning performance.