SEACOR Invests in Hybrid PSV Retrofits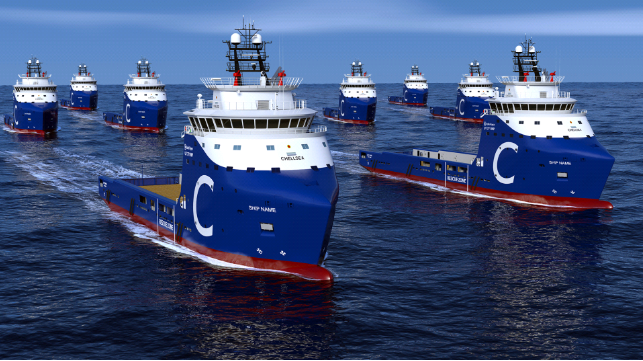 On Tuesday, Rolls-Royce announced that it will be working with COSCO, Seacor and Cosco Guangdong Shipyard to retrofit batteries onto six recently built but as-yet-unused PSVs. The arrangement will use a containerized battery pack, an approach that is gaining traction due to the ease of installation on existing vessels.
The six PSVs are drawn from a series of eight that were ordered by shipowner Chellsea Group in 2013-2014, just before the offshore downturn hit. All were built to a Rolls-Royce design and fitted with a Rolls-Royce equipment package. However, they were never delivered to Chellsea; the reasons were not announced, but in a recent interview, the Singapore-based firm's CEO advocated deferred delivery as a way to address the current state of the market.
China Cosco Shipping Group (COSCO) and Seacor recently formed a joint venture - SEACOSCO - to acquire the eight ships and retrofit six with hybrid propulsion, with an option to complete this work on the remaining two. It is not Seacor's only venture into hybrid technology. The Louisiana-based firm partnered with Kongsberg last year to add batteries to the Mexico-based Seacor Maya, which is due for a retrofit this month. Last Friday, Seacor expanded that contract to cover the three additional Mexico-based vessels, the Seacor Azteca, Seacor Warrior and Seacor Viking.
System integrators suggest that diesel-electric hybrid technology has the most potential for energy savings when installed on workboats like harbor tugs and OSVs, where there are significant changes in load over the course of a voyage. The batteries may be charged during periods of low load, then discharged to give a boost during peak loads. One system provider suggests that for PSVs, fuel savings can be on the order of 15-20 percent, depending on the vessel's operating profile.
Hybrid proponents contend that these vessels may be better able to capture charterers' attention (or even better day rates). This appears to hold true in at least one region: Norwegian oil major Statoil has expressed a preference for hybrid-powered PSVs, and in a tender last June, it selected seven vessels that will be retrofitted with battery packs to meet charter requirements.
Asbjørn Skaro, Rolls-Royce Commercial Marine's director of digital and systems, suggested that Seacor's newly acquired PSVs will also get more attention with hybrid systems. "These are advanced and modern ships, and we strongly believe that the new energy system onboard will make them stand out from the crowd in the market. They will receive an upgrade that benefits both the environment and the economic efficiency of the ships," he said in a statement Tuesday.
Rolls-Royce's Commercial Marine unit could be announcing future hybrid projects under another name. Despite the unit's groundbreaking work on digitalization and vessel autonomy, it has lost money in recent quarters due to the headwinds in the offshore sector, its core market. Rolls-Royce announced earlier this month that it may explore the possibility of a sale. "We have carved out an industry-leading position in ship intelligence and autonomous shipping and it is only right that we consider whether its future may be better served under new ownership," said Rolls-Royce CEO Warren East in a statement. Rolls-Royce will be retaining its Power Systems division, which supplies and services MTU and Bergen Engines.