Sea Shepherd Resolves Contempt Dispute with Whalers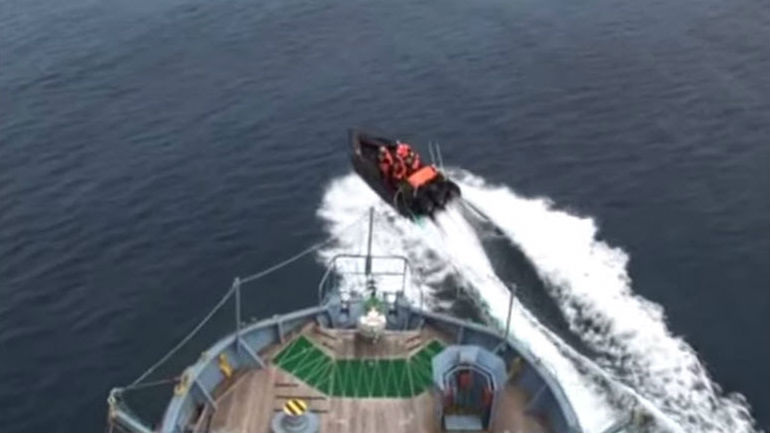 Sea Shepherd Conservation Society, a U.S.-based non-profit marine conservation organization, has resolved its long-running legal dispute with Japan's Institute for Cetacean Research (ICR) over whether Sea Shepherd and its affiliated parties were in contempt of a 2012 injunction entered by the Ninth Circuit Court of Appeals.
Sea Shepherd will pay ICR $2.55 million under the terms of a settlement reached on Monday. In exchange, ICR will dismiss its action for more than $4.1 million in damages related to contempt, and drop all claims against the former Sea Shepherd board of directors. Funding for the settlement will come from money from other legal actions and settlements, and will not include donor funds.
"Sea Shepherd does not agree with the Ninth Circuit's holding that it was in contempt, but after more than two years of litigation, we are very pleased to be putting the contempt action behind us," said Claire Loebs Davis, Sea Shepherd legal counsel and partner at Lane Powell. "By its very nature, the contempt action was a one-sided inquiry. We look forward to focusing on the continuing litigation in the district court, which provides Sea Shepherd with the opportunity to expose ICR's dangerous and illegal activities in the Southern Ocean – including the violent actions taken against those who have tried to stop it from killing whales in violation of international law."
ICR first filed suit against Sea Shepherd and founder Paul Watson in 2011 in federal district court in Seattle. In March 2012, District Court Judge Richard Jones denied ICR's motion for a preliminary injunction, but in December 2012, the Ninth Circuit Court of Appeals reversed and entered its own temporary injunction, prohibiting Sea Shepherd, Watson, and any party acting in concert with them from approaching ICR's vessels closer than 500 yards in the Southern Ocean.
This injunction came on the eve of Operation Zero Tolerance, a campaign planned to intervene against ICR's whaling in the Southern Ocean during the 2012-2013 season. In response, Sea Shepherd withdrew from Operation Zero Tolerance and all future Southern Ocean whale-protection campaigns, but the campaigns continued under the leadership of independent foreign groups.
ICR filed a motion for contempt in early 2013, and after an eight-day trial, an Appellate Commissioner recommended that neither Sea Shepherd nor any of its affiliates be found in contempt. In December 2014, the Ninth Circuit disregarded this recommendation and found Sea Shepherd, Watson, and the former members of the Sea Shepherd Board of Directors in contempt of the injunction based on the actions of the independent foreign groups. The Ninth Circuit also ordered the payment of damages resulting from this contempt, including any money that ICR had "wasted" as a result of Operation Zero Tolerance.
"Although we believe we abided by the injunction, and the Appellate Commissioner agreed, we must accept that the Ninth Circuit found Sea Shepherd and its former board of directors to be in contempt, and it is time to put this dispute behind us," said Ethan Wolf, current president of the Sea Shepherd board. "This court action has been a necessary part of the larger battle to save the oceans, but resolving it enables Sea Shepherd to renew our focus on our other campaigns to protect marine life around the world."
Wolf noted that Sea Shepherd was also very pleased to be able to resolve all of the claims against its former volunteer board. "Sea Shepherd thanks its former directors for the service that they provided to the organization. It's unfortunate that ICR pulled them into this dispute, but we are happy that all claims against them will be dismissed," he said.
Meanwhile, Sea Shepherd's legal efforts will continue to support its mission by pursuing claims against ICR in district court, where ICR is still seeking a permanent injunction against Sea Shepherd.
In a case set for trial in the fall of 2016, Sea Shepherd is seeking a declaration that ICR's whaling in the Southern Ocean is illegal under international law, as well as an injunction preventing ICR from using violent and dangerous tactics to protect its illegal activities. Sea Shepherd is also asking the district court to award damages for ICR's deliberate ramming of the Sea Shepherd vessel ADY GIL in 2009.
"It is crucial that Sea Shepherd be able to support its direct-action campaigns on the seas with forceful action in the courts, against those who plunder the world's oceans in violation of international law," said Sea Shepherd founder and board advisor Captain Paul Watson.
"We never expected our efforts to stop illegal whaling in the Southern Ocean to be easy. After all, we have been challenging one of the world's economic super powers for over a decade," Watson said. "We weathered the violence directed at us by the whalers, we weathered the storms, the ice, the politics and the legal assaults directed at us, and in the end we prevailed where it was most important, in the fact that thousands of whales that would otherwise be dead, are alive and free in the Southern Ocean, and Japanese whaling has been internationally exposed as an illegal operation by both the International Court of Justice and the International Whaling Commission."