Petrobras Starts Second FPSO as it Revitalizes Campos Basin Fields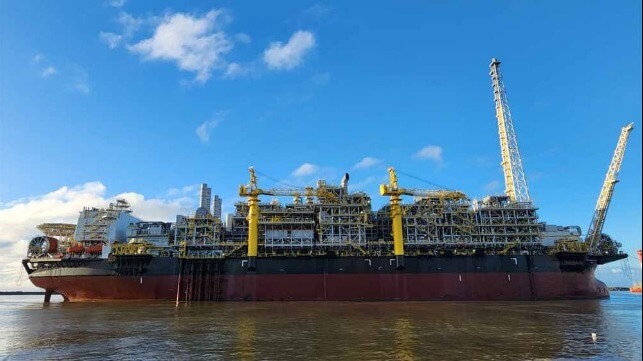 Brazil's offshore oil giant Petrobras has achieved another milestone in its plans to revitalize the maturing Campos Basin assets. The company reports the FPSO Anita Garibaldi started production in the Marlim and Voador fields on August 16.
The state-owned company, which is targeting to produce 920,000 barrels of oil equivalent per day (boed) by 2027, said the unit will operate simultaneously with FPSO Anna Nery in the fields. The Anna Nery started production at the fields in May.
With a capacity to produce up to 80,000 barrels of oil per day (bpd) and process up to seven million cubic meters of gas per day, the Anita Garibaldi is part of the Campos Basin renewal plan, which Petrobras is touting as the largest mature asset recovery program in the world. The company has committed to invest $18 billion in capital expenditure for the Basin's revitalization over the next five years.
The FPSO, which is owned by Japanese company Modec, was built by the Dalian Shipbuilding Industry Offshore (DSIC) shipyard in Dalian, China. Petrobras will operate the vessel on a long-term charter from Modec. The vessel was delivered in October 2022 beginning its trip to Brazil and commissioning.
(Petrobras)
Petrobras has deployed the two units at Campos Basin to replace nine older platforms that had been operating in the fields. The company expects that reducing the number of platforms in operation in the two fields will result in a 50 percent greenhouse gas emissions reduction. The two units will be connected to 75 wells and will allow the expansion of current production at Marlim and Voador to more than 150,000 bpd and a processing capacity of up to 11 million cubic meters of gas.
The fields, which form part of the basin's revitalization project, will produce the post-salt reservoirs and Brava, located in the pre-salt of the two fields. Petrobras also plans to deploy another three units in the basin to reach the target of 920,000 boed by 2027 from the current 565,000 boed.
"The Anita Garibaldi and Anna Nery platforms, which also started operating in 2023, will be key to increasing the longevity of the Campos Basin and expanding its production. In parallel, they are equipped with state-of-the-art technologies to reduce greenhouse gas emissions, combining efficiency and decarbonization," said Jean Paul Prates, Petrobras CEO.
He added that after more than 40 years since it started producing, the Campos Basin continues to renew itself and play a strategic role for Brazil, launching new projects and generating new opportunities.
Petrobras has been making significant investments in FPSOs, which are its preferred development method in the region. The company intends to deploy 18 units across various basins over the next five years.