Newport News Deploys 3D Printing for Naval Shipbuilding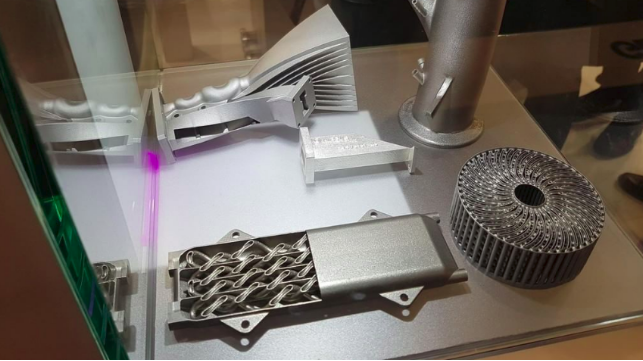 Huntington Ingalls' Newport News shipyard, the sole builder of the U.S. Navy's aircraft carriers, is working with 3D printing firm 3D Systems to qualify metal additive manufacturing in production applications. The first step is the installation of a top-end metal 3D printer at Newport News to produce replacements for castings, valves, housings and brackets in marine-based alloys for nuclear-powered vessels. 3D Systems says that it is the first time a metal 3D printer has been added to the production workflow at a major U.S. Navy shipyard.
"This is a game-changing and disruptive technology for our industry," said Charles Southall, Newport News' vice president of engineering and design. "In addition to our ongoing digital shipbuilding efforts, 3-D printing could transform our design standards, and this technology has the potential to be one of the most significant manufacturing innovations in our industry since we began building nuclear-powered ships in the 1950s. One of our goals is to provide leadership to our supplier base that will help accelerate the adoption of additive manufacturing within our industry, which may improve efficiencies and quality."
3D Systems says that the particular model provided to Newport News is capable of accuracy and repeatability to within ± 20-50 μm (roughly 0.001") for parts of up to 11" x 11" x 16" in size, tolerances that would be within the range achievable in conventional machine shops. However, 3D Systems says that its equipment can produce complex shapes that are not possible to machine with conventional methods. OEM-provided off-the-shelf materials for the printer include aluminium alloy AlSi12, maraging steel and several grades of titanium alloy and stainless.
The Navy and its contractors are testing the use of 3D printing in many applications: the U.S. Naval Research Laboratory (NRL) is testing metal additive manufacturing to print unspecified parts in stainless steel; engineering consultancy E&G Associates is working for the Navy to repurpose an off-the-shelf 3D printer to create explosive charges; and the U.S. Department of Energy and the U.S. Navy's Carderock lab have partnered to build a full-size, 3D-printed plastic mini-submarine.